Boys basketball team starts season strong
This winter, boys basketball hopes for a powerful season. Players worked hard in preparation for the regular season, which started on November 30.
"I'm really confident about the upcoming season, I think we have quite a bit of talent on the team," said Reece Nelson, senior and varsity player. "Something that Coach Ben [Hailey] has talked about is kind of figuring out how to pair that talent with toughness."
Coming back from a 2–12 record last season, the team is off to a great start with their overtime win against Greenfield on Friday, December 10th. Ben Hailey, who was the assistant coach last year and is now the head coach, hopes to bring the team to success.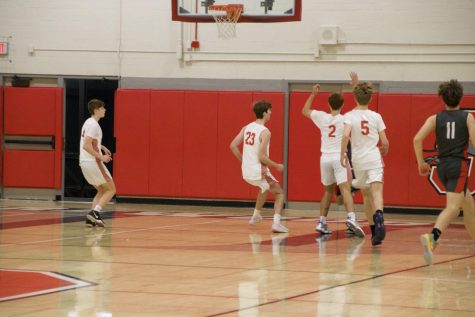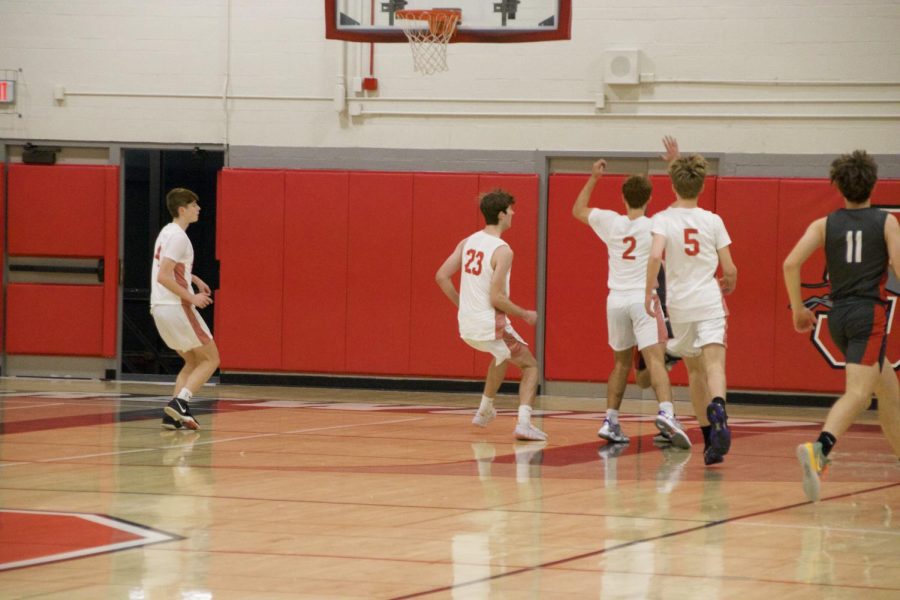 "We've been performing very well at practice lately, but it took us a little bit to adjust to my style of play," said Hailey. "We [lost] our first game, but they're really adjusting at this point. I think we've made a lot of strides since our first loss."
The team now has a 2–1 record. They lost their first game against Greendale 50–72.
"I think we definitely saw what we were capable of, which was good… We can beat teams and we know what to do," said Benji Richheimer, senior varsity player.
Practices are everyday for two hours throughout the week, and Saturdays are dedicated to skills training. 
"At practices it's been pretty competitive… Our standards are pretty high for this year because we have a good team and we have good coaches," Richheimer said. "We stretch, usually do some warmup drills like layups or just a bit of running, and then we'll usually go over defense… We'll get into a 5 on 5 setting and just go over where we need to be when the ball is at a certain position."
"
We [lost] our first game, but they're really adjusting at this point. I think we've made a lot of strides since our first loss.
— Ben Hailey, head coach
During practices, the players are not required to wear masks like they were last year, but they do have to get tested for Covid-19 twice a week. 
"The guys are able to play without masks, I think that's huge for them, they're able to actually stay in the games longer, and actually practice harder… and [since] we get tested twice a week, we always know our status and are very well prepared for Covid this year," Hailey said.
The team is preparing for a two day tournament in Port Washington on December 28 and 29, as well as some big games coming up.
"I would say the biggest games this year are against Whitnall and Brown Deer, and that's January 5 and 7. I know it's important to our coach because it would prove a point," Richheimer said.
"This year we're kind of focused on something Coach Ben mentioned: taking revenge for last year and showing teams we're not the same team as we were last year," Nelson said.
Varsity games are usually at 7 p.m. after the JV and Freshman teams play, and are allowed to have spectators, unlike last year. 
"The games are very competitive and fast-paced," Richheimer said. "I think this year we have a really good team, we have a lot of talent, it's enjoyable, obviously, the atmosphere is great too."