Shorewood fall sports make a full return
Girls Volleyball
The girls volleyball team started their season on August 17. The three groups: varsity, JV 1 and JV 2, meet every day after school in the North Gym to practice. 
"We do warm ups and a lot of ball work, and recently we've been doing scrimmaging and serve-receive practice," said Aida Ganther, senior and varsity player. 
Last year, due to the pandemic, all the players had to wear masks during practice. This year, they have to wear masks as well. 
"Last year was a bit of a shock playing with masks on," said Ava Stansbury, junior and varsity player. "This year it's definitely easier to play, there's more energy and it's more fun to do more activities and games."
"
I think there's a lot of potential this year, and we're all working really hard,
— Aida Ganther, senior and varsity player
The team has played four games so far. With much of the season left, the players are focusing on building their skills. After gaining 15 new players this year, they are working on team building as an important aspect of their play.
"There's a lot of new girls on the team, so we still have to figure out what we need to focus on," Ganther said. 
The team is excited to be back playing and are looking forward to their future games. 
"I think there's a lot of potential this year, and we're all working really hard," Ganther said. "I just hope that it's a fun season and we win a couple of games, at least."
Messwood Football
Due to the pandemic, Messwood Football had their season in the spring last year. Unfortunately, last year's season ended abruptly after a player contracted COVID-19. 
This year they were able to start practicing in August, a more standard schedule for football.
After losing to Whitefish Bay and Kettle Moraine, their record this year is 0-2.
A player from Messmer contracted COVID-19 in the first week of school, so the team's latest game was cancelled. However, they are back on track to play against other teams in the upcoming weeks. 
Boys Volleyball 
The boys volleyball season started on August 16. 
Their practice has clearly been paying off, as they have been undefeated in all four games since the beginning of the season. This is a drastic improvement from last year, when they played a total of ten games and only won two.
The team did not lose any graduating seniors last year, meaning they could continue to develop their skills as a team. According to Henry Claussen, team captain, team members have played club volleyball since last season, so the team has improved drastically.
Girls Tennis
After many of the tournaments were cancelled last year, the girls tennis team now has the opportunity to participate in several matches this fall. Eric Nelsen, varsity head coach, hopes the team will continue to improve.
"Last year, we placed fifth at the conference tournament. This year, we're hoping to get second or third. We think we can get to that level," Nelsen said. 
This year, players are allowed to take their masks off during practice and share tennis balls. The varsity team meets every day after school to practice for an hour and a half, and junior varsity practices after. During practice, Nelsen and the three assistant coaches provide drills and games to improve specific skills.
"It's valuable to have a big team so that the girls have the opportunity to be challenged, not by just playing with each other but by also doing things on the court," Nelson said. 
The team is almost halfway done with their season. Their most important events are taking place in the next few weeks. 
"
It's valuable to have a big team so that the girls have the opportunity to be challenged,
— Eric Nelsen, varsity head coach
"Our next four matches are our most important," said Nelsen. "We have three more Woodland Conference matches. We compete with D1 schools, and we're really competitive with them, and we're usually in the top five out of the twelve, so we want to do well."
The team has spent time together outside of practice, engaging in various activities including pizza and pasta dinners, tie-dyeing socks and going to the lake. The leaders are working hard to ensure that everyone is comfortable and feels like a part of the team. 
"Last year, there were little friendships that formed, but never a team feeling," Nelsen said. "This year, I feel like people do think they are a team." 
Nelsen wants the atmosphere of the team to be positive and encouraging. 
"One thing we have in mind is that we're here to have fun," Nelsen said. "We'd like to win, we'd like to do well for Shorewood, but the most important thing is that we want to have fun out there."
Girls Swimming
The girls swim team had a successful season last year, placing second at the state championships. This year, they will have even more opportunities to compete in meets.
"I'm excited that I get to have a normal season like I did freshman year, and be able to go to all the fun meets that we missed out of my sophomore year," said Elise Jacobs, junior and varsity swimmer. 
Last year, the girls only competed in dual meets at the Shorewood pool. Spectators are still not allowed at home meets, but they are allowed everywhere else. Locker rooms, which were not in use last year, are now available for the girls to use. Swimmers are also able to train together in a greater capacity. 
"We have more flexibility to do sets with more people," Jacobs said. "Last year we were in our own lane, but this year we're able to mingle and talk to more people that may be on the other side of the pool than you. Everyone on the team is so positive, it's really fun to train with them." 
"
Everyone on the team is so positive, it's really fun to train with them,
— Elise Jacobs, junior and varsity swimmer
The team meets everyday after school for two hours. During the summer, they were able to do yoga at the beach and have additional dryland practices in the morning.  
"We're all really close now," Jacobs said. "Everyone on the team is so nice and amazing, but it's nice to do more with them, especially outside of swimming."
The girls have high hopes for the season. 
"I just think we have such a good team and I'm so excited to see what we'll do," Jacobs said. 
Boys Soccer
The boys soccer team has been off to a great start. Their most notable win so far this season was the East Side Cup Championship against Germantown. 
"The East Side Cup was a good challenge for us to get our season going, since Germantown is a D1 school," said Denis Krioutchenkov, varsity co-captain. "It was probably the toughest game so far."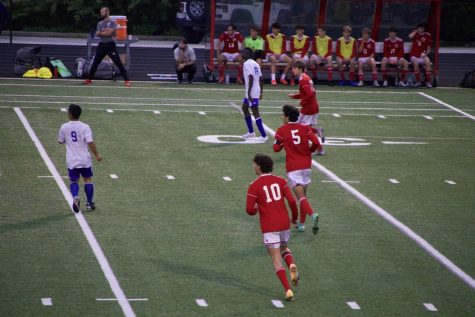 The team is looking forward to playing with many more teams that they couldn't play last year. 
"We have 20 or more regular league games, and then playoffs after that, so we're definitely seeing some new teams that we haven't played last year," Krioutchenkov said. 
Last year, due to the pandemic, Shorewood opted to play in the spring since they were unable to play in their normal fall season. The players are happy to return to a normal schedule. 
"I didn't really like [last year's schedule] much because it was towards the end of the school year," Krioutchenkov said. "This year we have a regular season right when school starts so we're one of the first sports people come to and that's really enjoyable." 
The team had several summer practices, led by the co-captains. However, now the team practices every day after school. Masks are not required during practices anymore. 
Kyle Konkol, head varsity coach,  is excited for a promising season that is already delivering. 
"It's a good group of guys, they have a lot of fun together," Konkol said. "At the end of the day, it's about having fun. Part of having fun is competing hard and the goal of the game is to win it, and our guys compete very hard and they all want the best for each other and it's fun to be around that kind of atmosphere."
The team has impressive goals this year. 
"We want to win the D3 state title again, going as far as possible," Krioutchenkov said. "It's definitely gonna be some history made there."
Girls Cross Country
This fall, Shorewood Girls Cross Country (SGCC) is having a relatively normal season. The team meets Monday through Friday after school. Unlike last year, the girls can now run together during practices. 
"We're able to do a lot more as a team, which makes the season a lot more fun," said Bella Lozier, senior and varsity runner. 
"We're trying to generally have a lot more positive attitude because running is really hard and if you don't have a team where everyone is trying their best to be positive, it can be really challenging," Lozier said. "This year we're working hard to foster a positive environment." 
Spectators are allowed at meets. The team is especially looking forward to the Griak meet in Minnesota. The meet is hosted by the University of Minnesota, and more than 50 teams compete. The girls cross country team won the meet in 2019. 
"It's the hardest course we run. We have to camp in tents so we're gonna drive and camp and run the next day. It's the biggest meet of the season, so that'll be exciting," Lozier said. 
"
This year we're working hard to foster a positive environment,
— Bella Lozier, senior and varisty runner
Amie Gronert, sophomore and varsity runner, has made more connections with her teammates this year than last year. 
"Last year it was weird coming from doing sports with teams, and then going into the pod format, so going into this year I feel like I adjusted pretty quickly back to what a normal season should feel like," Gronert said. 
The team dropped many times over the last couple of meets. Right now, the girls are hoping to win the D2 State Championship again. 
"I'm super excited about how fast we are, we have a great group of people. we're having so much success and we're not even at the point where we are at our fastest in the season. I'm excited for how hard everyone is working across the board and we're getting better each week," Lozier said.
Boys Cross Country
The boys cross country team is looking forward to a return to a mostly normal season. 
"Last year we had limited teams at races, no more than eight, sometimes only four," said Dom Newman, varsity head coach. "So everything is just about normal, but we have to be careful." 
The team meets every day after school. Practices are individualized for each athlete so that everyone has the appropriate mileage and training plan. 
Team bonding activities have resumed in a return to something that resembles normalcy. A fun meet that will take place this year is the nightfall race at Wisconsin Dells. 
"It's a really neat race, and it's really fun," Newman said. "Teams can do their glow in the dark paint activities  and have fun after the race."
The team's main goal is to run well at sectionals and state. 
"I hope to get the teams in the state meet," Newman said. "I think we're capable of winning the conference meet. I want the athletes to feel less restricted because everything is about as normal as it can get, and everything is looking good for us right now." 
Mountain Biking
After not competing for almost two years, the mountain biking team, with about 60 new members, is finally ready to race this fall. 
"I'm excited, and nervous to see what these events are going to be like," said Sydney Shimko, co-head coach. "I knew what I expected two years ago, but now we've missed a whole year and our team grew so much."
The mountain biking team has athletes from sixth through twelfth grade. Starting in July, the middle schoolers practice on Tuesday, while the high schoolers practice on Thursday. The team meets as an entire group on Saturdays. During practice, they meet in cohorts of eight athletes and two coaches. 
"During COVID, one of the biggest things was not being able to mix groups together," Shimko said. "Last year we had to be pretty strict in keeping cohorts together. That was hard, because that didn't allow us to have the culture and community that we usually would."
"
Team bonding is really important to us, and we've found ways to bring everyone together during practice,
— Sydney Shimko, head coach
The team practices on various trails when training. Shimko helps the team work on their basic skills first. 
"We do progressive skills training, really working on the skills we need to be successful and in preparation for going on the actual trail," Shimko said. "We progress through trails that have some easier features in the beginning and then to harder, more difficult trails once we've had more training."
The season will have a total of five meets, which take place all around the state. The first meet that Shorewood is going to is held in Minooka on September 12. It's important to Shimko that the team learns to work together and gets to know each other.
"Team bonding is really important to us, and we've found ways to bring everyone together during practice," Shimko said. "Our main goal is to get all the athletes comfortable and in any mountain biking situation, and to get everyone to progress as a mountain biker."