Senior doubles team ends season at state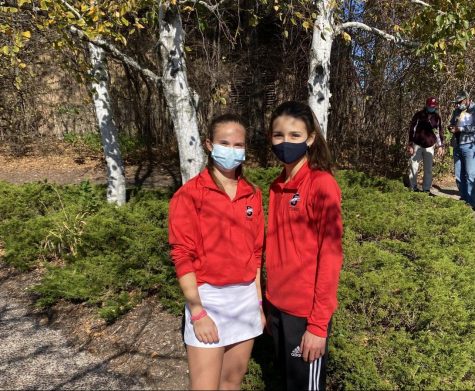 In a tennis season riddled with uncertainty, Shorewood's top doubles team made it to the state tournament. Natasha Davis and Abi Knox played at Kohler on Oct. 15 and 16. 
Going into the season, Davis and Knox, seniors and co-captains, were just glad to have a season and were focused on fostering a positive team environment. 
"I was honestly very thankful that we had a season, so my goals going in were just play the best I can, have a good time while doing it, trying to create a team where everyone is included and is having fun and laughing at every single point of the game," Davis said. 
"State really wasn't a goal," Knox said, "It was one of those things where like if we made it great, that would be awesome but… I didn't have my sights set on it."
This year, the girls team had new coaches who took a different approach that kept partners together from the start of the season, instead of rotating them around, which other coaches had done in the past. This was not necessarily due to COVID-19, but it worked well as an additional safety precaution. 
"Myself and the other coaches had a belief that once you find good partners you want to leave them together so they can excel," said Eric Nelsen, head coach, "Sometimes people get put together as partners and they don't work but in Abi and Natasha's example they were excellent working together and so it was very clear from the beginning."
Davis and Knox advanced through sub-sectionals and sectionals to make it to state. One other Shorewood girls doubles team advanced to sectionals, Becca Cheever and Jamie Puppe, but they did not make it to state. 
There were some differences this year in how the state tournament was run due to COVID. Spectators weren't allowed, masks were required when not on the court, each player had their own balls and the venue was changed. 
Although they prepared all summer for the season, one challenge Davis and Knox faced this year was a lack of preparation opportunities for the state level. The team was only able to participate in about half the normal number of matches (around 15 vs 30) during the season. This gave them less exposure to difficulties. 
"A lot of the matches they played weren't very challenging," Nelsen said. "So the missed matches we lost were some of the ones that would have been more challenging for them." 
The pair was seeded fifth at state, but exited after the round of 16. 
"Going into state, I was a little disappointed with where we ended up, just like in the moment because we had been seeded fifth going into it, and then we came out in the round of 16, which was unfortunate," Knox said. "But looking back on it, we made it that far and that was impressive."
Davis agrees that she is proud of the season they had, and the fact that they made it to state.
"We had an amazing season, we got to state. I'm proud of that," Davis said. 
As for the SHS tennis team next year, Nelsen hopes to continue the qualitative goals and improve on advancement and placement standings. 
"[Our goals for next year are] helping the girls improve their tennis game, helping them be a strong team, helping them enjoy tennis, and have fun and enjoy being with each other," Nelsen said, "[Also to] improve that fifth place [conference] standing, have more teams qualify for sectionals so three or four or five, and have hopefully have at least two teams qualify for state."
As seniors, this was the last high school tennis season for Davis and Knox. Both plan to continue tennis recreationally but not competitively. Looking forward, they hope the team continues the energy it has fostered. 
"I think the tennis team has had a great atmosphere in the past few years," Knox said, "It's been a mix of everyone having fun, joking around, laughing and also being competitive. I hope that continues… I'm looking forward to seeing what they all accomplish."