Shorewood's newest restaurant mixes cuisines
Zai Khan is a prolific veteran of Indian-Pakistani cooking– and also a software engineer, and a polyglot. He had been searching for a landing spot for years after leaving Anmol, another restaurant located further in Milwaukee. He found it in Shorewood. On October 12, 2022, the lights of a small, new restaurant flickered on across from Atwater School. Pizza N Curry had arrived to bless the Shorewood community. Since then, running on Khan's expertise and the strength of its locally grown ingredients, it has prospered. 
"We didn't expect [this] response and support from the community," Khan said. 
His only complaint so far is that members of the community often refuse to accept the free food, wanting the business to continue further. 
Pizza N Curry offers a plethora of non-meat options, including Palak Paneer ($11.99, a spinach and cheese curry) and a vegetable pizza. They also offer dishes with halal meat. The first time we stopped at Pizza N Curry, we ordered mixed vegetable and a curry for takeout. There was quick service, the food was delicious, and we got a free bowl of rice. We ordered pizza for the second time. It was a typical Italian pizza, except with a paneer topping. For a more culturally authentic experience, we would recommend trying out the tandoori sauce (their most popular) or going with a curry.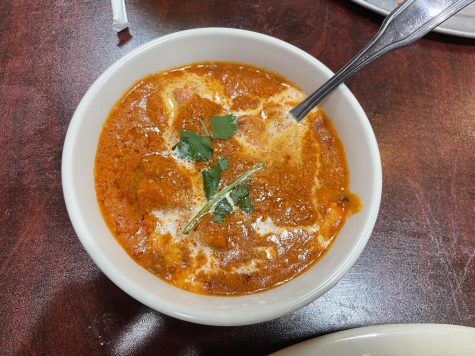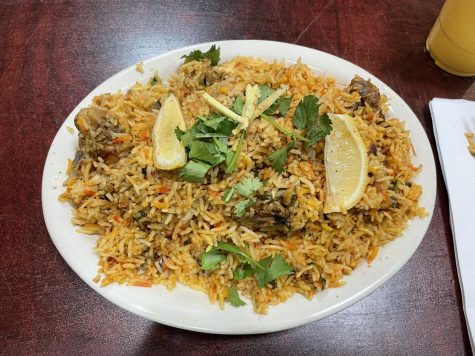 A relatively spartan atmosphere belies the richness of the food later served. Bright fluorescent lights illuminate white walls and floor with utilitarian tables and chairs. Despite a relative lack of decor, the owner still makes the space welcoming with conversation. The wait was relatively short. After we ordered, we chatted with the owner and friendly customers. First to arrive are the vegetable samosas ($3.99). They are classic, triangular pastries stuffed with potatoes and peas, along with cumin and other spices. These samosas were quintessential. 
Not so with the next dish that arrived. As a half-Indian and long-term peruser of various Indian restaurants and cooking, we have never had a vegetable curry that tasted as fresh as this restaurant's. The mixed vegetable curry ($11.99) arrived with a textured array of smells that made my mouth water before we could see it– cumin, white pepper, coriander, and onion are most prominent. The bright and carefully cooked corn, broccoli, peas, potatoes, green beans and sweet carrots add individual flavor and texture to each bite. There is a bright, hearty base flavor from the spices and oil that complements the vegetables without overpowering their freshness. We ordered the dish with a medium spice level. The mango lassi ($3.99) provided a cool and refreshing respite from the spiciness that slowly accumulated in my mouth as we ate. After eating as much as we could, there were still around two more servings of the large spoonfuls we ate over rice ($3.99). There was no rice left, though. Had we not been full, the meal would quickly have turned more expensive than we originally intended. You would do well ordering multiple portions of rice or naan per curry (especially if you order spicy, to temper the rich flavor.) If you get takeout, rice could also be made at home. The curry and lassi were truly a divine pairing– the airy, fruity yogurt drink balanced the spice like jumping into the lake after sunbathing on a hot summer day.
For our second main dish, we decided to get the popular chicken biryani ($15.99). Biryani is a flavorful mixed rice dish consisting of meat, vegetables, and a variety of classic Indian spices. This expensive rice dish brought a bit of hesitancy when ordering; however, a long term customer waiting for his online order insisted that it was worth it. The portions were huge and the flavor was amazing. Some flavors surprised us including a mix of mint and saffron, fitting perfectly with the spiciness from chili peppers. While enjoying our biryani and curry, we were offered a small bowl of their butter chicken. Out of all the Indian restaurants we've eaten at, this butter chicken tops as one of the best. The smooth, filling sauce combined with a mix of traditional spices and chicken were a great pairing for the garlic naan. A short walk from central Shorewood, Pizza N Curry is the place to go for classic Indian dishes.
In the future, Pizza N Curry plans to remodel with new tables and chairs and expand the menu, adding, among other dishes, shakes and chicken tikka. Khan recommends the pizza with tandoori sauce or the butter chicken curry.