SHS Drama presents "Little Shop of Horrors" for winter musical
Shorewood theater completes one of its largest productions
On February 9th, the drama program performed their first production of Little Shop of Horrors. 
"Little Shop of Horrors is about a boy who meets a girl in a florist shop; they are both kind of down and out in life and they fall in love. Then, wonderful and terrible things happen to them because of the human-eating plant in the florist shop that they work at," said Adam Sheaffer, drama director. 
Little Shop of Horrors has been a huge undertaking for SHS Drama, with an abundance of people involved in the process — especially those working behind the scenes. 
"It's about 80 students and seven or eight staff at various points," Sheaffer said. "If you include parent volunteers, it's like 100 people. It's a big production, [involving about] one-sixth of the student population."
Rose Callahan, junior and cast member, emphasized the amount of work that went into the production.
"Everybody has been working really hard … it may look easy, but especially for the plants and everything, it's been a lot of work," said Callahan. 
Callahan also noted that the importance of those working in tech cannot be overstated — particularly in the operation of the human-eating plant central to the musical. 
"For tech and the crew, I really hope the audience knows how much work they did … the set is really cool, the plant is really cool, and I just hope they appreciate that," Callahan said. 
At the beginning of each rehearsal, students must sign-in before taking their places. From there, a choreographer walks them through their positions on stage step-by-step.
Sheaffer remarked on the unpredictability of drama rehearsals.
"It's really different every day, which is part of the reason I really like it — you never get bored," Sheaffer said.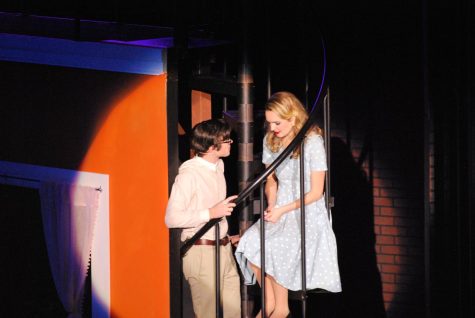 Throughout rehearsals, students utilized the assistance of a vocal director who has worked with the cast on voice control and projection.
"It's a big production number, so some rehearsals are everybody gathering around the piano and our vocal direction going through music with either soloists or with the chorus," Sheaffer said.
Sheaffer stressed his excitement for the musical because it gives multiple actors their 'big break.'
"For a handful of them, this is their first opportunity," said Sheaffer.
Sheaffer also shared that theater requires teamwork and unity.
"That's one of the things I love about theater, that people sort of come together like they do in sports," Sheaffer said. "[They] become an ensemble through this shared focus of the activity of preparing a production for performance." 
In the drama program, the emphasis is on cast and crew members working together toward a common goal. 
"Theater is a collaborative art form; the kids have to sort of throw themselves into meeting someone new," Sheaffer said.
For Callahan, the rehearsal process for Little Shop of Horrors has been both challenging and rewarding.
"I haven't done this much rehearsing for a show before, so it's been kind of stressful," Callahan said. "I've mostly been rehearsing choreography and singing; not so much acting, because I don't have as much acting to do."
Callahan also noted the different dynamic within the cast of Little Shop compared to that of previous shows.
"There aren't many ensemble numbers, so getting together with the full cast doesn't happen much," Callahan said. "But I've definitely grown closer with the trio I'm in."
For Sheaffer, watching students progress is a highlight of the rehearsal process. 
"They've really stepped up in fantastic ways that are exciting for the future [of the] program, exciting for them, and exciting for audiences," Sheaffer said.
Sheaffer emphasized the importance of continued support for the production from the student body.
"The best thing [students] can do is come out and support their peers, and see what amazing things are happening on campus," Sheaffer said. "I mean, it's one of the greatest movie musicals that has ever been made."