Boys soccer ends with sectional final loss
The boys soccer season came to an early end with the loss of their second sectional game against New Berlin Eisenhower with a final score of 1-2, only a couple games away from the chance of taking home the state champion once again. Their hard-work this season did not go unrewarded, as they won the Division III Regional Championship 1-0 against East Troy. 
Kyle Konkol, head coach for the team has been coaching for Shorewood for the last eight seasons. After losing two all-state players, he remained optimistic about the season.
 "This year was just adjusting to everybody's strengths, and trying to figure out the best way to play and what positions [everyone was] going to play," Konkol said. 
"I think after a very solid three years of a very successful soccer program here, we had high expectations but losing a few really key players over the last season meant we had a challenge coming for us," said Will Lichtenstein, senior and co-captain. 
The team had high expectations coming in, and worked diligently to prepare.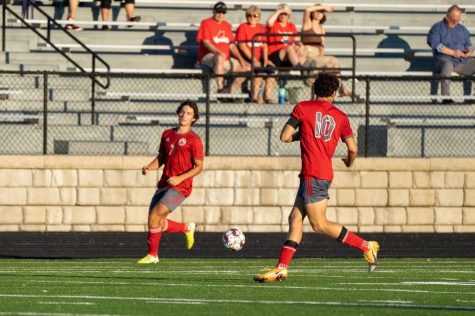 "Hashim Khan led our forwards, then in the midfield was Chris Aguilar, Will in the defense. They all did a great job getting the guys out in the summer to train and to get prepared for the season, and [during] the season they maintained their standards for how they train to prepare for games," Konkol said. "In games they kept [everyone] together when things were really challenging."
The team only lost five games in the duration of the season, some of which were non-conference games against highly ranked teams, including rival Whitefish Bay, a Division II high school, which resulted in a loss on behalf of Shorewood 0-1.
"We were very strong defensively. We played a really difficult non-conference schedule against some top state teams and we were in every game," Konkol said. "[Most of] those games could've gone either way, if we would've gotten a goal or two."
Lichtenstein reflected on the team's chemistry over the course of the season.
"I think this year we've had a much more leveled team input on decisions and we heard everyone's opinions. It was a much more shared platform throughout the team," Lichtenstein said. 
Chris Aguilar, senior, Hashim Khan, senior, and Lichtenstein shared the role as captains.
"I think a lot of people stepped up, even some of the younger guys, so as the season kept going we got better at playing together," Aguilar said. "Obviously it's hard to adjust from having a player who scored 52 goals last year, but we worked around that." 
Although the team did not get as far as they intended, players left feeling optimistic.   
"I am very proud about our all conference outcomes, we had the player of the year in our conference, Chris Aguilar, and we had multiple first team all-conference players, including myself, James Shuurman, Nate Patzer, Chris Aguilar, and others," Lichtenstein said.
Konkol believes leadership is a strong trait demonstrated within Shorewood's team.
"[Players]  take a lot of ownership in how our season goes and I think that's how we've had so much success over the years. The guys have a lot of ownership, trying to get us to play well and together," Konkol said. "[They] pick each other up when things don't go well, not just when they're doing great, but also when there's obstacles." 
Konkol encourages more students to try soccer because of the unique experience and  community the program at Shorewood offers. 
"We get a lot of people that come out to our games and a lot of students that come out and it's just a great, supportive atmosphere for us to do our best in," Konkol said. "We have a lot of pride in our community and are doing our best to represent Shorewood well."