Homecoming and spirit week a success
With the start of the 2022-2023 school year, Homecoming makes a comeback for the first time since 2019. Spirit Week included traditional activities such as themed dress up days, a pep rally and the Homecoming game, concluding with a dance. 
Alexis Hu, senior and Student Council president, wanted to ensure the success of Homecoming week by reintroducing past customs to younger students. 
"From the beginning we felt like it was not only in our hands to restart a school tradition, but this was also our opportunity to set the tone for years to come," Hu said. 
Themed dress up days this year consisted of pajama day, country versus country club, on Wednesdays we wear pink day, jersey day and color block. Along with these themed days, the tradition of Powderpuff, a flag football game for girls between the different classes, was held on the Thursday night before the homecoming game. The seniors beat the juniors 28-0 and the sophomores won with a score of 21-0 against the freshman. As a whole, the purpose of Spirit Week is to bring students together through fun themes and self-expression.
"Spirit week is an opportunity for students to support and uplift each other and to be unapologetically crazy,  [so they can] express their creativity," Hu said.
 The spirit days were kept relatively simple in order to guarantee student participation, which proved to be beneficial.
"We had awesome participation for spirit week, and I don't know how we're going to top that…it was really strong this year," said Jessica McCabe, administrative assistant and student council advisor.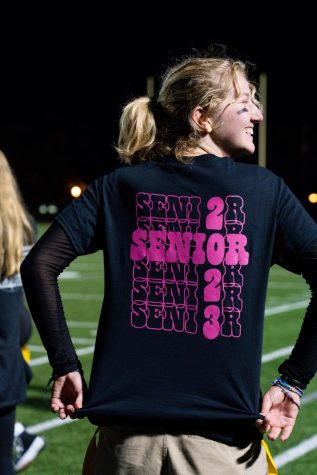 Shorewood students were engaged throughout all activities during the week, as ticket sales for the Homecoming dance nearly doubled from 2019, with 388 tickets sold for SHS students alone. 
Chloe Cayo, senior, recalls her experience participating in the dance her freshman year, and is optimistic about its future.
"I think that student council went above and beyond with decorating, which made it a really good place to be," Cayo said. "Everything had a nice flow to it… it felt more natural [than previous dances]."
Cayo recalls the theme her freshman year was Hawaiian, and prefers the semi- formal 'Under the Stars' theme, where students were told to 'dress to impress'. 
"I like how it felt like a fancier dance than in the past," said Cayo. "People dressed up a lot more this year which was fun, but still nothing too crazy like other schools do, but that's how I like it."
A big change for the dance this year was the location. Typically, dances are held in the arena, which some believe to be too big a space.
"[In previous years] it has been an entire open gym with no one in it, and just a cluster of people dancing in one spot," said Cayo. "This year, I liked how it was in the north gym, and I [think they should] definitely keep that."
Community members have noticed the absence of the annual Homecoming parade, but Student Council stresses its return next year, with some potential new traditions.
"Our hope is to really get things picked out and chosen for the next homecoming [parade] at the end of this school year, so that kids can better prepare for the parade and we can ask businesses to get involved," said McCabe. "In Whitefish Bay they go out and paint the downtown windows, which I would love to see in Shorewood."
Overall, student council is happy with the success of the week and looks forward to upcoming opportunities. 
"I think [everything] should really only go up from here, and I hope that we were able to set a strong foundation that Student Council can build on in future years," Hu said. "This entire event was the collective effort and vision of all of our members, and I'm really incredibly proud of all of us."