SHS welcomes a variety of new clubs
Investment Club
Near the end of the 2021–2022 school year, Charlie Burns, Max Schmaling and Aden Wasserman, juniors, co-founded Investment Club. The goal is to teach students how to responsibly invest.
"The purpose of our club is to bring more engagement and education into trading stock and investing," Burns said.  "It's important to try and educate high school students on investing."
Investment club was started after Burns, Schmaling and Wasserman won the Wisconsin Stock Market Game at the high school level. This is a realistic stock market simulation that takes place biannually over a period of 10 weeks. The goal is to build a stock portfolio that's as profitable as possible and cash prizes are also involved. 
A typical meeting starts off with a discussion about what is currently happening in the market. A lesson is then taught on investment or economic principles, followed by an activity.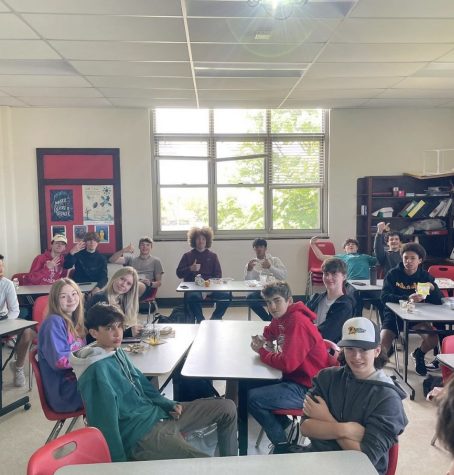 "We go into what's happening in the market during that day, month, etc. and break down the heavy words for new investors," Burns said. "We then go into either a game, activity, or educational piece."
One of these activities is a stock market game where club members invest fake money into the real market and win prizes.
Plans for the future include selecting groups that each will enter into the University of Pennsylvania Global High School Investment Competition, and taking a trip up to the Federal Reserve Bank of Chicago, an investment bank or New York City.
Prior knowledge on the stock market or economics is not a requirement to join the club
"
It's important to try to educate high school students on investing.
"You don't have to come in with any previous knowledge. You can come in as a beginner, and we'll be building up your education on stocks. Just be there and expect to learn and have fun," Burns said.
Investment Club is advised by Mr. Schmidt, and meetings are held every other Thursday in room 300.
Eco-Club
With the new leadership of Leela Antigua and Tyndall Talley, juniors, Eco-Club is planning on using the club to support the environment on school-wide and potentially community-wide levels.
"[Eco-Club operates] within the community of Shorewood," Talley said. "As the year goes on, we're going to figure out more programs to be involved with in the community."
As a result of the unusual nature of the last two school years, Eco-Club hasn't been in full effect. Because of this, the new co-presidents have had to make a lot of changes and build the club back up.
"We're kind of making everything new, I feel like we're restarting it," Antigua said. "It's technically not new, but I think with us as the presidents it is going to be… different from what it was last year."
"
As the year goes on, we're gonna figure out more programs to be involved with the community.
"The years before have been a little rocky because of Covid, so we're [basically] working from the ground up," Talley said. 
The club leaders accept ideas from all members on the topics discussed in the meetings and the events that they plan.
"It's very collaborative," Antigua said. "We want to have all of the members give us ideas. We don't really have an outline. We want to do what everyone else wants to do, and work as a group."
A plan for the near future is to organize a trash cleanup around Shorewood.
"Before it gets super cold, we do want to do a beach cleanup or something like that," Talley said. "There is a lot of trash in certain areas, so just general cleanups around the community and high school."
The club has already been taking action to aid the environment by upcycling.
"People will bring in old clothes they do not use. We talk a lot about fast fashion, so anything that people are bringing in, we can donate or make something new."
Eco-Club meets every other Wednesday in Mr. Mathews' room. New members are encouraged to email Antigua or Talley if they are interested in joining. 
ACLU Club
The American Civil Liberties Union is a non-profit and non-partisan organization that works to protect the individual rights and liberties of the constitution for U.S. citizens. 
The 102-year-old organization takes up court battles to protect the rights of American citizens, if infringed upon. They have been involved in some of the most well-known and influential Supreme Court cases in the country, like Roe V. Wade, Dobbs V. Jackson Women's Health Organization, and the Tinker vs. Des Moines black armband case. 
Jillian Beaster, junior, is the founder and president of the club. She was inspired to create the club after getting involved in the ACLU her freshman year. She believes the connections she has made within the ACLU, and with other organizations around Milwaukee, will strengthen the club.
"
Being able to help people and teach people to make changes is what keeps me going.
"That got me to start the club because I had more connections, so there's a lot of resources to make it stronger and actually influential to people," Beaster said.
The club plans on organizing events and educating students on how to address societal and political issues that they are passionate about. 
"[To be able to] at least spread awareness is something in itself, but being able to help people and teach people to make changes… is what keeps me going," Beaster said.
"Everyone would come with an idea, something like a cause or an issue that they would want to take on," Beaster said. "We would decide on which one we should do first…  then decide how to act on that."
Their first big project is organizing a voter registration drive. Last spring, Beaster organized a similar event in collaboration with the League of Women Voters and the event was a success.
"I think we got around 30 percent of eligible seniors, which I thought was pretty good because it was my first time," Beaster said. 
The club meets every Thursday in room 214 (Ms. Glembin) with Mrs. Mohagen as the advisor. Beaster encourages anyone who wants to be more involved in the causes they care about to come join the club.
"If you're slightly passionate about a cause or an issue, it's a great way to learn about it and take action," Beaster said. 
Feminist Club
In the beginning of the 2021–2022 school year, Feminist Club, was co-founded by Charlotte Wood and Toma Avdeev, seniors, in hopes of creating a safe environment for students to discuss women's rights issues, and a place to take action against school, community, and nation wide gender equality.
"[The purpose of the club is to] provide a safe space for people at the high school, and take action in case someone is experiencing something like sexual harassment," Wood said. "Or things like Roe v. Wade, or other community issues that come up that impact women." 
"
We're hoping to leave our club in the hands of a new generation of high schoolers.
Wood was inspired to start Feminist club after realizing that other people had shared experiences.
"[I started the club] because of sexual harassment that my peers were experiencing, and my own experiences with  sexual harassment and coercion," Wood said. "That made me want to create something for people at the high school."
During a typical meeting, members discuss the activist of the week and plan for any fundraisers or events they're organizing. If there's a current issue happening within the community, they talk through it as a club.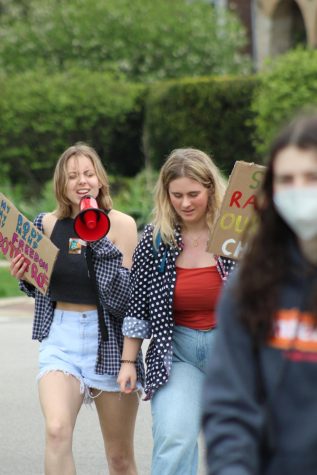 "We do an activist of the week where we share a certain person, either present day or in history," Wood said. "We will plan out fundraisers… and when something happens in the community, we have a conversation about it [in a space] where everyone shares their feelings."
Last school year, the club organized many events including the walkout in protest of the possible overturning of Roe v. Wade, the implementing of menstrual products in the bathrooms, and a school wide event where students wore red in support of sexual assualt survivors. 
The club met for the first time this year with lots of new recruits. Wood believes that with these new members, the club will continue to thrive next year. 
"Our first meeting had a big turnout of freshmen and newcomers, which was really amazing to see," Wood said. "We're hoping to leave our club in the hands of a new generation of high schoolers."
Feminist Club meets every Thursday at lunch in Room 217 with Mrs. McFarland as the advisor. Wood encourages anyone who wants to join Feminst Club to come to the meetings, as they're always looking for more people and opinions. 
"It would be awesome to have people join our club. It's really great to have more voices and more input," Wood said.