Students share UWM internship experiences
The Biophysics Internship Program is an outreach program headed by Professors Ionel Popa and Valerica Raicu at the University of Wisconsin-Milwaukee. Established in 2016, the program is returning from a two-year hiatus due to the Covid-19 Pandemic. Every year, four to six Shorewood High School students are selected to participate based on their grades, interest and potential. Students go through safety training, attend two sessions where they learn about topics and are assigned a research project and a direct supervisor from the current laboratory members. In the final phase of the internship, the students analyze their data, write a report and present their data to their fellow interns, teachers and parents.
Makayla Lawrence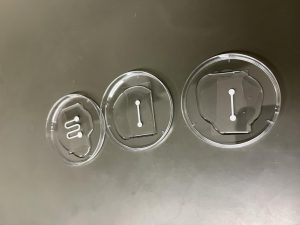 Makayla Lawrence, junior, applied for the UWM internship program seeking to expand her knowledge of the intersection between technology and biology. 
"Our body is the vessel through which we perceive reality, so understanding how proteins make our body work is really interesting to me," Lawrence said. "I really hope to get into bioinformatics or computational biology one day."
At UWM, Lawrence conducts her research in Ionel Popa's lab, located in the Kenwood Interdisciplinary Research Complex. Lawrence uses OpenSCAD, a 3D modeling tool, to create molds for microfluidic devices to help channel fluids used in the process of studying proteins.
"I am in the first phase of my project, [where] I am doing modeling. I am designing these molds, on which I will prepare a material called PDMS, and the PDMS will then be used to hold the fluid, in which the protein we are studying [is] suspended."
Lawrence spends around eight hours a week in the lab, where she works closely with Florin Saitis, a freshman biology student at UWM. Outside the lab, Lawrence focuses on designing and perfecting the models she made in OpenSCAD.
"SCAD is similar to [the programming language] C, but it is different because it is a program that produces shapes and models," Lawrence said. "I would first upload my open-source SCAD files and print out the molds. I would then go over to the wet lab, where chemicals, scales, everything is, and I prepare the PDMS solution."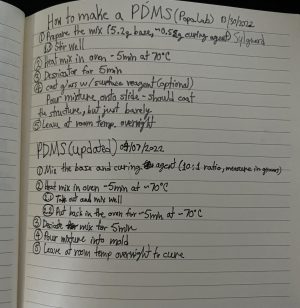 PDMS is a silicon-based organic polymer, and is widely used in chemical research for its versatile properties. After preparing the PDMS solution, Lawrence pours the mixture into the mold, and tests the microfluidic device for any leaks using dyed water. 
"After I make a successful mold, I will give it to my graduate advisor, and she will test it for any further issues. If all goes well, I will progress into the second phase of my project, where I will be learning more wet-lab techniques and the magnetic tweezers."
The internship has given Lawrence an opportunity to gain research experience before college, where she plans on pursuing an engineering major. 
"I think if engineering research development might be in your future, this is a great way to gain some experience. Whether you are more interested in the coding side of things, or the wet-lab side of things, I think it is really a wonderful opportunity."
Mira Kahate-Dezousa
Having always been interested in biology and chemistry, Mira Kahate-Desouza, senior, wanted to see how these fields of study could be applied to solve real-world problems.
"Up until this point my knowledge has always been in a really theoretical capacity because I only learned it in a classroom setting, so it's been really great to see how these subjects are applied in actual labs," Kahate-Desouza said.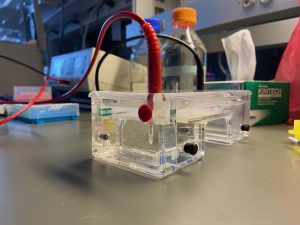 At UWM, Kahate-Desouza works under the guidance of two advisors, Smrithika Subramani and Suha Malik, with the main objective of her project being to successfully synthesize GFP, or green fluorescent protein. GFP exhibits bright green fluorescence when exposed to light in the blue to the ultraviolet range, and is commonly used as a tagging protein. 
"Using DNA ligation, DNA sequencing and splitting, we have been trying to get a bacterial culture to synthesize this protein. [We] place a DNA insert into a bacterial plasmid in order to get the bacteria to synthesize the protein." Kahate-Desouza said. "There are multifarious purposes for the [protein], but my main project has been the synthesis of it."
In order to identify the specific genes used to synthesize GFP, Kahate-Desouza uses a laboratory method called gel electrophoresis. In this process, an electric field pushes DNA strands through a gel, separating them by molecular size. 
"Gel electrophoresis is basically testing what types of DNA you have in a sample against a reference, so for example, heavier strands of DNA are not going to move the way that lighter ones do, so seeing where bands form on your gel can tell you which type of DNA you have in your sample."
During a typical week, Kahate-Desouza spends around six to eight hours in the lab, usually split up into four sessions. Participating in the internship has helped Kahate-Desouza expand her knowledge of molecular biology and gain lab experience in a professional setting.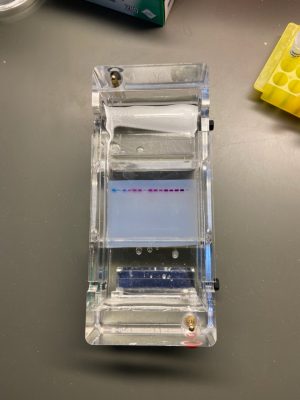 "I really like that we're making use of the fact that we have a really good research university really close by to Shorewood. I've made some contact with this field and now I know some people in that university setting, which are experiences I'm sure are going to be invaluable in the future."
Looking forward, Kahate-Desouza intends on pursuing a career involving molecular biology and bioengineering. Kahate-Desouza encourages students with an interest in science and research to apply for internships in the future.
"I would say definitely take advantage of the fact that we have this opportunity available to us. It's been a really helpful, really enlightening learning experience for me, and I would definitely recommend it."
Pramana Saldin
Pramana Saldin, senior, has always had an interest in science. Saldin is interested specifically in physics and quantum mechanics. He applied for the internship because he plans to do research in college and he wants to gain experience.
At UWM, Saldin is using the programming language MATLAB to simulate protein behaviors in various environments. Saldin combines MATLAB and F.R.E.T. (Förster Resonance Energy Transfer) to study these proteins. 
"
You'll get to learn how to work with other people in the scientific community
— Pramana Saldin
Saldin is primarily guided in his internship by Dr. Gabriel Biener, associate scientist and Shorewood parent, who helps him code using MATLAB. Saldin has a background in coding, but he had never previously used MATLAB, a coding language that is primarily used by scientists and researchers for mathematical calculations. 
Saldin appreciates the easygoing nature of the research lab along with the professionalism of the undergraduates and professors.
"I can go up to anyone else in the office and they make it seem very professional and it's easy to talk to other people," Saldin said.
Saldin works at UWM for four hours every week, and spends the remainder of his time reading research papers and applying them to his work. In total, he spends around eight to ten hours per week working on the internship. Saldin cites the ability to read scientific research papers as a newfound skill that will help him in his future endeavors.
"
Reading papers is super important later on if I get into research and understanding the scientific lingo is useful
— Pramana Saldin
"Reading papers is super important later on if I get into research and understanding the scientific lingo is useful," Saldin said. 
At the end of the school year Saldin, along with the other SHS students involved in the internship, will present their work to a group of parents and SHS science teachers. The students will present their progress on their work and any final products.  
Saldin recommends this opportunity to any students who have a keen interest in science.
"I think it's very much worth your time especially if you're going into research, this is really valuable," Saldin said. "You'll get to learn how to work with other people in the scientific community, you'll learn how to read scientific papers, and at the end of the year you get to present it to other people, so there's actually a payoff to this so I think it's good to try for."
Sebastion Pollock
Sebastian Pollock, junior, enjoys science because it allows him to have fun discovering new things. So when Pollock was presented with an opportunity by his science teachers to apply to work at UWM, he didn't pass on it.
"
I thought it would teach me a lot of new things not only academically but about myself and my interests
— Sebastion Pollock
"I thought it would teach me a lot of new things not only academically but about myself and my interests," Pollock said.
Pollock works in UWM's Kenwood Interdisciplinary Research Complex under Dr. Raicu. At Kenwood, he is part of a team composed of graduate students who are studying yeast cells in order to produce more effective medicine to fight fungal diseases. Specifically, he is using a computer program called FICOS FRET (created by Raicu Lab) to analyze data that has been produced by undergraduate students at UWM. Eventually, after he better understands FICOS FRET, Pollock will begin collecting his own data.
"Right now I have my own cubicle with the other graduate students which I think is pretty neat, it's as if I was part of their team," Pollock said. "Once I familiarize myself with the program then I'm going to start getting my own data to analyze."
Pollock's team is studying STE2 receptors, which are proteins found in yeast cell membranes. While STE2 receptors are very similar to those found in human cells, STE2 cells are used in place of the latter due to ethical concerns. Pollock uses data to produce meta histograms that reveal how STE2 receptors respond to medicine.
Pollock credits this job with allowing him to learn more about his interests.
"
It's these outside-of-school opportunities that allow me to discover who I am and I can say with great certainty that I will go down an alley with STEM
— Sebastion Pollock
"It's these outside-of-school opportunities that allow me to discover who I am and I can say with great certainty that I will go down an alley with STEM," Pollock said.
While working at UWM, Pollock has had the unique opportunity to work in a college Biophysics lab as a high school student. Pollock shared that some of the biggest benefits of working at UWM have been gaining a deeper knowledge of various scientific disciplines and understanding what majoring in a scientific subject in college could entail.
Pollock usually spends four to eight hours per week working in the lab. He doesn't work every day and is grateful for the leniency of the professors when it comes to scheduling work hours. He recommends that students who are interested in science and gaining a better understanding of college life should consider applying for this internship.
"Don't pass up on an opportunity because even if you're not the smartest, even if you're not really interested in science, it is the college experience that is cardinal," Pollock said. "There [are] not a lot of programs that offer free admission and free guidance by graduate professors in a lab that's one of its kind throughout the nation."