Cross country teams have strong state showing
Shorewood High School's boys and girls cross country teams wrapped up successful seasons at the D2 state championships on October 30. The boys team took home their ninth championship trophy since 2000, and the girls team were runner-ups.
The boys team was led by Nathan Cumberbatch, junior and individual champion. Cumberbatch finished the course in a time of 16:06, winning by 10 seconds. The team's main goal was to continue to run good times up to and at the state meet.
"We wanted to keep executing the races the way we were," Cumberbatch said. "I think the team had a good pack around 17:00–17:20 the whole season and so their goal was to just stay around there, and my goal was to sit and kick in the end and get the win. We've come a long way and we had some tough days in training and tough meets, but we ended up getting it done."
Girls cross country ran well as a team, and were boosted by seniors Isabella Lozier and Annika Elliot. Lozier placed eighth and Elliot placed twelfth individually in the girls race.
"Everyone ran really strong at state… New and old runners went out strong and stayed tough on the hills, which is all you can ask for," Lozier said. "Everyone was exhausted after they finished, everyone gave it their all."
Last year, the cross country teams competed in D1, which made the competition tougher due to the teams being larger. This year, Shorewood was back in D2. 
"I think this year when we were back in D2 we kind of got a little bit of confidence back. Last year we were with some schools that we really couldn't compete with, but this year we kind of settled back into our rhythm," Cumberbatch said.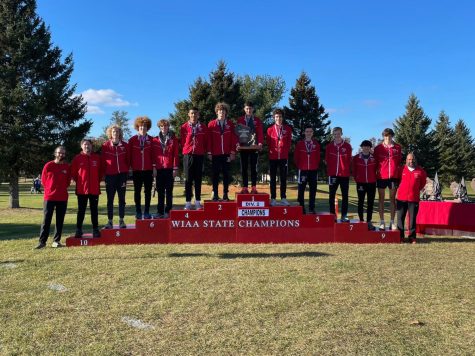 The junior varsity team also proved its remarkable skill this season, placing in the top spots at meets, with runners frequently reaching personal goals. 
"Everyone showed a lot of improvement, there were a lot of [personal records] at every meet," said Maya Schmaling, sophomore and JV runner.
Shorewood received a plethora of support from cross country alumni, families and friends. This encouragement from the community proved crucial for runners.
"Shorewood is a place where everyone's really connected. We're connected with the community and the alumni, so I think we just had a ton of support from everyone. The teammates got really close this year, and I think that was a reason we had all the success we had," Cumberbatch said. 
Looking into the future, both the girls and boys cross country teams are excited for new people to join, and to continue the Shorewood cross country legacy.