Boys soccer wins state championship
For the second time in the last three seasons, Shorewood boys soccer became the WIAA Division III state champions. The team finished the season strong at Uihlein Soccer Park against Green Bay Notre Dame, winning in penalty kicks after a scoreless game.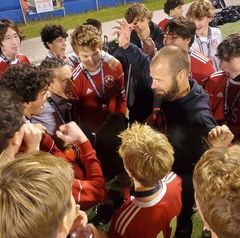 Their performance capped off the best three-year run in the program's history. The team won the state championship in 2019, and made it to the state semifinals last season. Kyle Konkol, varsity head coach, claimed the team's ultimate goal of this season was to win the state championship.
"These guys are part of the greatest generation of teams in the program's history," Konkol said, "We won state, and since then, that's been the expectation for the last couple of seasons. It's not to just make it to state, it's to win."
The win was not an easy one; Notre Dame took 14 shots to Shorewood's 11. However, neither team appeared to be dominant over the other.
"Green Bay Notre Dame is a very good team, they're very solid everywhere on the field, and they made it difficult for us on the attack," Konkol said. "We had to make some adjustments going into overtime, which included putting Will O'Connor in an attacking space."
After 80 minutes of regulation time, the game went to overtime, which is made up of two 10 minute halves. With neither team conceding a goal in the 100 minutes of play, the game ultimately went to a penalty shootout. Shorewood ended up defeating Green Bay Notre Dame 5-3 in penalty kicks.
"At the end of regulation and before overtime started, I think there was an understanding that we had an opportunity to win the game," Konkol said. "I know these guys were exhausted, but they still had more left in them to give, and they were going to get the job done. We went into the shootout and Notre Dame missed. I looked at our guys who were left to shoot, and I knew they were going to make it, and we were going to win."
"
I know these guys were exhausted, but they still had more left in them to give, and they were going to get the job done,
— Kyle Konkol, head coach
This was not the first time the greyhounds had faced Notre Dame this year. Last year, the greyhounds' season ended after losing Notre Dame 0-1 in overtime in the state semifinal.
"This was a revenge game for us," said Will O'Connor, senior and co-captain. "Coming out of the loss last year in the semifinal, it was a terrible feeling. I just don't want that to happen again, and over the summer, and at the beginning of the year, I stressed to everybody that we had to come out strong every game."
O'Connor attributes much of the team's success this season to their mentality.
"We were strong mentally, and we took it game by game, focusing on our opponent, [and] next opponent," said O'Connor. "We never looked past any team."
For Denis Krioutchenkov, senior, co-captain and the state's top goal scorer, the team's success also stemmed from everyone's commitment to the team.
"Everybody was committed, everybody wanted to win state again," said Krioutchenkov. "Part of the reason is also that everybody believed in it. Me and Will told the team that 'This is our year, we all deserve to be here. We all put the work in.'"
Konkol believes the team's accountability and competitiveness gave them an edge that helped them reach their full potential.
"The team is just a really cohesive group, and they hold each other accountable. They all consistently showed up at practice with a competitive mindset and determination to win," Konkol said. "The players held each other up to high standards, and I think that helped us be the best we could be."
"
Everybody was committed, everybody wanted to win state again,
— Denis Krioutchenkov, senior and co-captain
The team's overwhelming accomplishments this season did not come without challenges. Notably, the team lost two of their senior varsity players to injuries, Sajen Hardrath and George Pritchard, both of whom were key parts of the team. 
"Prior to Sajen's injury, he was the second-leading scorer on the team, and he was going to be an intricate part of our attack," said Konkol. "And just a few weeks [before state], George Pritchard, our goalie, broke his big toe."
Although the team had to make significant adjustments both defensively and offensively to account for these losses, O'Connor is proud of how the team responded.
"Our team really rallied around the guys who had to step up and play new positions, with new expectations on their shoulders, and I'm really proud of our team for doing that," said O'Connor.
Looking to the future, the team will be losing eight seniors, so the lineup will look very different next season. Krioutchenkov gave insight on what the team will need to do to have another outstanding season next year. 
"People will have to step up. That's going to be the most important thing," said Krioutchenkov. "They are going to have to believe in themselves. Believe that every day, they are getting better. Defending titles is going to be a lot of pressure on the team, and they will have to rise to the occasion."