Labor shortage and ongoing pandemic impacts small businesses
As Shorewood businesses return to most of their pre-pandemic operations, they have been met with strong community support. Shephanie Sherman, interim executive director of the Shorewood Business Improvement District (BID), has observed this firsthand.
"All of the businesses have had to pivot a million times to keep their doors open, to keep their shelves stocked, to keep the tables with food and servers," Sherman said.
Product shortages and supply chain issues have left numerous retailers predicting future product demand. Jacob Bresette, owner and manager of Lake Effect Surf Shop and Board President of the BID, has directly experienced this problem when attempting to source wetsuits for his business.
"The supply chain has caused a huge stir… now I go to order [wetsuits] six months or 12 months in advance, kind of just guessing," Bresette said. "So you're rolling the dice a little more now, preordering, ordering bigger bulks and shipments and waiting for those a little later in the season versus an immediate drip feed like we had before."
While small businesses, like Bresette's, have had to take greater risks because of supply chain issues, Sherman notes that they have an advantage when it comes to understanding and connecting with their customers and communities.
"I think one of the benefits to being a small business is that you change things up really quick: you know your customers, there's loyalty, people know you, so [you have] the ability to get creative, to make it all work and get sales," Sherman said. "It's customer service that sometimes wins over whether or not you have everybody's favorite product, it's all about relationships."
"
You're rolling the dice a little more now, preordering, ordering bigger bulks and shipments and waiting for those a little later in the season,
— Jacob Bresette, owner of Lake Effect Surf Shop and Board President of the BID
A recent national labor shortage has impacted businesses across the country, including those in Shorewood. High turnover rates and an unstable labor force have placed a strain on current employees and business owners. Three million fewer people have been looking for work since the pandemic began.
"It costs 10 times more to hire an employee than it does to retain an existing one. As you're seeing a lot of new people come into the workforce, you're also seeing that drive to have to train the employees and get them up to speed," Bresette said. "And anytime you do have to hire a new employee, you are always met with an additional cost of workmen's compensation and other expenses associated with that."
"The people want to get out and support and we all want to sit and eat, but if you only have one server for a whole section that person is hustling, so I see that happening a lot," Sherman said. "As customers, I think we all just need to be patient, kind and supportive."
Sherman has also observed more high school students working, as job opportunities are greater and businesses are more desperate for employees.
"I've seen more high school students working jobs than ever before… I feel like there is more opportunity for up and coming young people to get in there to really roll up their sleeves and show what they can do, it's a good way to really prove it because they need you," Sherman said.
"
As customers, I think we all just need to be patient, kind and supportive,
— Stephanie Sherman, interim executive director of the BID
In response to the labor shortage, the Wisconsin Senate recently passed legislation that would allow businesses with under 500,000 dollars in annual revenue to work children ages 14 and 15 later and more hours. While Sherman understands the importance and value in adding children to Shorewood's workforce, she is wary that not all employers will respect and understand the constraints of being a young employee.
"I think there is something to be said for engaging young people in the work that happens because then [they] see things, but if they're just a commodity then you have to be really cautious," Sherman said. "If the business isn't large and you get to work with the owner, that could be a real unique opportunity, but it also depends on the ownership and how they treat their employees."
Shorewood students gain experience in the workforce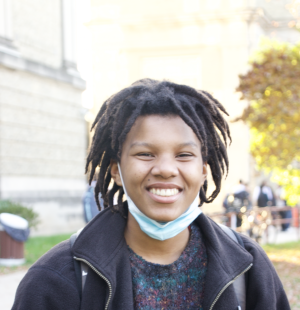 Isabella Busby
Isabella Busby, sophomore, has been working at Cloud Red for approximately two months. Busby originally applied to Cloud Red in hopes that she could make some additional money and gain valuable work experience. Conveniently, Busby's shifts have allowed her enough time between work and school to complete any homework, which has helped her balance school and work effectively. Busby has had nothing but positive interactions with all of her co-workers.
"I've never had a bad experience with the staff, I love all the staff I work with, everyone is super great, super welcoming," Busby said.
Although the pandemic is still an issue for many workers, Busby feels protected at work, as Cloud Red requires masks for employees and customers, regardless of vaccination status.
"I feel safe, because I'm wearing a mask, I'm vaccinated and I think just morally if I'm feeling sick I'll get tested. Obviously I can't say that for everyone else that just comes in… Hopefully most people in Shorewood have the same kind of morals that I do: if you have COVID don't interact with people." 
Busby enjoys most aspects of her job and has very few complaints, but at times being a busser can be difficult because she's on her feet for her entire shift.
"The only taxing aspect is walking around all day so my feet kind of hurt."
While many students have had to increase their hours due to the national labor shortage, Busby does not view this as an appropriate solution. Her role at Cloud Red is specifically designed for a student, making the hours she works more reasonable and flexible to her schedule, but she understands this is not a reality for other students.
"[Increasing hours for student employees] is super concerning, because that is not the answer to a labor shortage, making it legal for kids to overwork themselves."
Overall, Busby has found work to be something she looks forward to and is gratified by.
"I love coming into work and I love working at Cloud Red."
Amaris Kaleka
Amaris Kaleka, sophomore, has been working her first job at Corner Bakery since August of 2021. Kaleka was originally interested in working so that she could gain work experience, specifically in customer service, and increase her financial autonomy.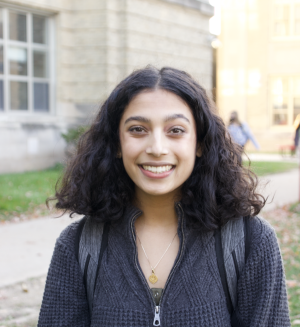 "I think that the customer service industry is a good thing to work with because you get a sense of what people are and who they are," Kaleka said. "Payment wise, it makes me feel better because I am providing more for myself. I am taking on more responsibilities as I am growing older, so I like that and in that way it is gratifying."
While the pandemic still poses threats to essential workers, Kaleka feels relatively safe at work, considering staff at Corner Bakery are required to wear masks. A separate, more pressing challenge Kaleka faces at work is staffing issues due to the national labor shortage, and supply chain gaps. This problem makes work more mentally and physically taxing.
"We're actually extremely understaffed. With the shortage of supplies and such high supply demand, we've been running out of products… It's kind of hard. It also makes people look down on your workplace because either service is slow or things get messed up."
As Kaleka has a heavy course-load at school and other responsibilities, working is all the more difficult due to her already busy schedule.
"It's so draining to work when you have zero energy, which affects you mentally as well because your mind is so out of order, sometimes you forget about things… you feel like you never have time to yourself."
While working at her first job has helped Kaleka grow in numerous ways, she is nervous that this is only the start to a lifetime of working.
      "Knowing that I'll probably have to work for the rest of my life from this point on is just a little bit scary. Now I have to grow up and I can't just do whatever I want."
Lily Hudson
Lily Hudson, senior, has been working at Kopp's Frozen Custard since mid-June. Hudson normally takes orders at the register or runs the sundae bar. One benefit to Hudson's job is that she makes 16 dollars an hour as she is now an adult.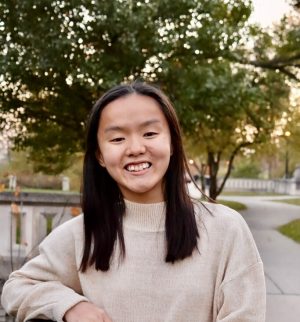 "I do make 16 dollars an hour so that is definitely a perk and that's the only reason I work there," Hudson said.
Another benefit Hudson finds to work is learning how to recognize, and deal with, customer needs.
"Working with customers [is a positive and negative] because you have to learn how to answer in a respectful and nice way and be friendly to people whether you're having a nice day or not."
Over the summer, Hudson was working 45 hours per week, but now during the school year she is working far less. Hudson participates in cross country, and during the season it was difficult for her to balance school and work on top of running, especially considering the demanding hours.
"Kopp's closes at 10 on weekdays and 11 on weekends, and I usually get out an hour after. I'm usually getting home around 11 or 12."
While Hudson is an adult and not covered by most child labor restrictions, if more people were to quit due to the recent law change, Hudson might be required to work more hours, a change she would not welcome.
"I think they would try to push for [me to work more hours], but that would just lead to more people quitting, [and] I would quit before my hours would go up too much."