SHS welcomes new associate principal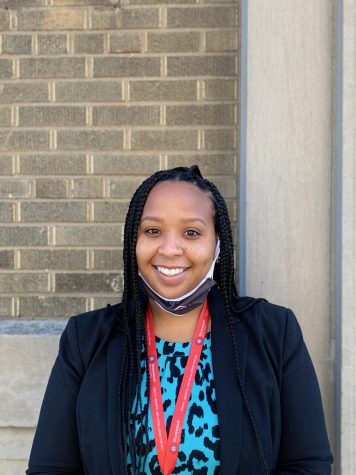 Among many staffing changes in the Shorewood School District this fall, Amanda Jamerson is the newest addition to the Shorewood High School administrative team. Jamerson assumed her position as the new Associate Principal in August, transitioning from her previous position of Associate Principal at Oak Creek High School.
Jamerson started her teaching career in 2013, and has experience working in a large pool of districts, including Milwaukee, Mequon-Thiensville and Racine.
Jamerson began her career as a special-ed teacher, and the experience of being able to work with a diverse group of students has helped her as an administrator.
"My experience as a teacher was amazing, I [started] as a special-ed teacher. I was able to work with many different students as a teacher in K through 8," Jamerson said. "I got to work with students with so many variants of the special needs population, and I was also able to work with our regular-ed students because I co-taught."
According to Jamerson, seeing the results of changes she implemented in her classroom inspired her to become an administrator.
"I realized that I could only create so many changes within my one classroom at the grade level I support. So if I become an administrator, I can do this for the entire school."
Having been a Milwaukee Northshore resident for most of her life, Jamerson noted that Shorewood's location was a factor of appeal to her. Growing up as a minority student, Jamerson hopes that as an administrator, she can provide students with the support she lacked as a child.
"When I was in [the] Northshore as a minority student, I felt that there were certain things that helped me and there were things that hurt me in my educational pursuits. I felt like it was time for me to come back, and be that change, and that voice I always wanted to have when I was younger."
"
I felt like it was time for me to come back, and be that change, and that voice I always wanted to have when I was younger."
With the exception of a few minor hitches along the way, Jamerson notes that her transition has been successful overall.
"This has been an amazing transition. I feel so supported, the students and families that I have been able to meet have been very welcoming, and I feel much myself at work."
As the Associate Principal, Jamerson hopes to uplift students and foster an inclusive environment at Shorewood. 
"I want students and parents to know that when they come to SHS, that they are going to be supported, and they are going to have someone in their corner at all times."
Jamerson believes that helping students recognize their potential is the best way to empower students. Jamerson says that her background in alternative education has helped open her eyes to that. 
"I always say there is a power of potential with everyone. Students want to be better, and they want to do great things. So for me, that has always been my philosophy, it is like the power of one's potential. Once you recognize that power, you can do just about anything."
Jamerson believes that her role is to motivate students and help them achieve the next level of success.
"This is where I can motivate students to get to the next level, and encourage and uplift these young ideas that students already have."
Jamerson recognizes that the past year and a half has been difficult for students and staff alike, and she hopes to alleviate the stress among students.
"I think it is going to be a transition for every student, even adults. To understand that we are back to normal, we have this level of normalcy, that we are back to school. We went through the hardest year, hard to imagine, and it's important to show students that they don't have to be perfect."
Jamerson encourages students to stop by her office and say hello.
"I always enjoy talking to students. I love to get to know my students, and I am open to talk about anything they'd like to know about me."