CIEE students enjoy summer experiences
For the seventh year in a row, SHS has been selected to participate in the Council on International Educational Exchange (CIEE) Global Navigator Scholarship. As one of the 97 schools in the country that is a CIEE Global Navigator School, Shorewood students are guaranteed up to $25,000 worth in scholarships for study abroad programs every year. The CIEE offers a diverse selection of programs in many different countries, including language, service, and leadership programs. During the three to four weeks abroad, students stayed with host families or in dorms. This past summer, four students traveled with CIEE having received a total of $7,527.50 in total scholarship money. If you are interested in participating in CIEE in a future year, contact Evan Schmidt at [email protected].
Charlie Marble
Charlie Marble, senior, wants to study business in college. His interest in entrepreneurship, along with his previous exposure to CIEE, is why he applied for the 'Global Entrepreneurship' program in Dublin, Ireland. 
"My brother Jake did a CIEE program a couple of years ago so I'd already known about it. My brother had such a good experience that I wanted to do it at some point too," Marble said.
Marble spent three weeks attending entrepreneurship classes at a local college. Aside from attending his classes, Marble was also able to visit neighboring towns and participate in cultural activities.
"Along with [the class] we were able to go on little separate trips; such as, we went to Bray which is a seaside town and we went to a mountain on another day trip. These excursions were really fun as well."
During his trip, Marble learned a lot about becoming an entrepreneur, and got first-hand experience building his own business. For his final project, he presented a business plan for opening a poké restaurant.
"[In my program], we had to come up with a business idea and build it from the ground up. We would do the initial planning and then all the finances that go into it." 
Reflecting on his trip, Marble believes that his biggest takeaway was learning about how diverse the world is.
"Even though it was a business-centered program, I met so many different people, and saw so many different cultures."
Sunitha Menon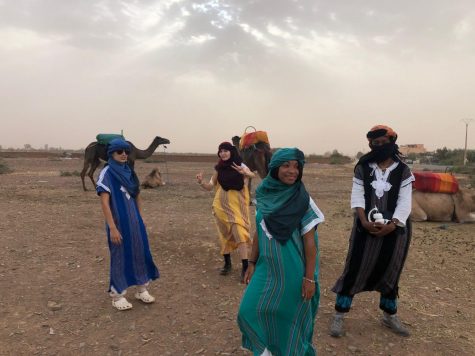 Looking for an "Indiana Jones-style adventure", Sunitha Menon, senior, spent three weeks in Rabat, Morocco through an Outdoor Leadership program. 
"The CIEE program I was on was an outdoor leadership program. We focused on doing leadership activities outside which was kind of just us traveling and learning about places and talking to people," Menon said.
Menon stayed with a local family and was able to gain unique insight into the culture and way of life in Rabat. She was immersed in the culture and language throughout her entire trip which challenged her to strengthen her communication skills.
"In my host family, only two of them spoke English, three of them, including the two that spoke English spoke French…there were ten people in my family and I couldn't speak to a majority of them. I just used hand gestures and facial movements."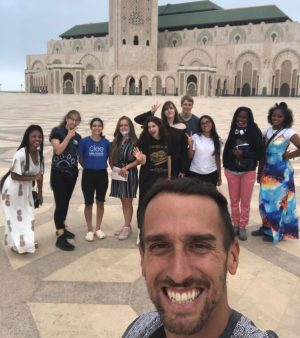 During her trip, Menon got a strong understanding of the culture through first-hand experience as well as the insight of local professors. 
"We talked to some professors, they told us about culture and how things are, and then we would go around to places and learn about history, and then we'd just do random thrill-seeking activities for fun: they were supposed to push us out of our comfort zone."
Overall, Menon's biggest takeaway was her ability to navigate through a country somewhat on her own.
"I really just learned a lot of independence and that I can actually do things without any help, like I can get to places that I've never been to before without any instructions, in a foreign country, by myself."
Chloe Damm
Chloe Damm, junior, is the President of the Sunrise Movement, a club to help fight against climate change. Her interest in saving the environment and her love for the outdoors lead her to choose the program titled "Aquatic Sustainability Ecosystem" in Setubal, Portugal.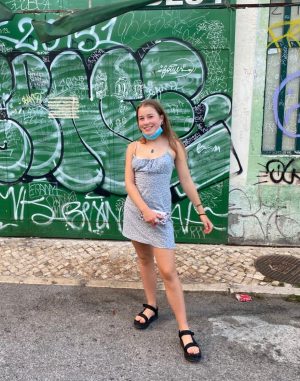 "I am really interested in the environment, and also I love being outside. So it really seems the best fit for me to go and study sustainability, and I knew we would be outside on the beach all the time," Damm said.
Damm had hands-on classes each day that taught about sustainability and the environment. In the beginning, her classes were online due to COVID-19, but there were in-person classes later on that especially had an impact on her. 
"It was totally hands-on and we connected a lot with the community; all our teachers were from Portugal…We had a lot of classes outside and classes on the beach. For example, one day we surfed, and we learned about the waves, how to produce sustainable surfboards. Everything is super hands-on, which is one of my favorite things about the program."
Aside from the daily classes, Damm was able to explore Portugal on her own and with the new friends she had made. 
"My favorite memory is when we would have free time, me, and three of my friends would go to this secret beach. You have to walk through the water to get to it, and there are boulders you could jump off."
Looking back on her trip, Damm feels that her biggest takeaway was learning to get out of her comfort zone. 
"I think doing things out of my comfort zone is so rewarding and important, and this was a huge step for me. This is probably the riskiest, most adventurous thing I have ever done, I am so glad that I did it, I would love to do something like that in the future."
Paisley Lucier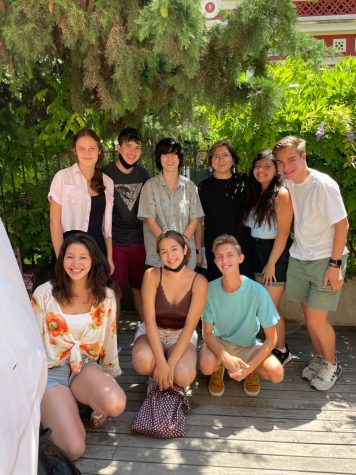 With hopes of improving her Spanish, Paisley Lucier, senior, traveled to Barcelona, Spain for a language and culture program.
In the program, Lucier took four hours of Spanish classes every day, with the exception of weekends. Lucier heard of the program her sophomore year, and was keen to take the opportunity of studying abroad in a Spanish-speaking country.
"I knew I really wanted to improve my Spanish, and I thought this was a perfect opportunity to go and actually be able to speak and practice the language consistently with native speakers," Lucier said.
For the entirety of the four-week program, Lucier resided in the outskirts of Barcelona with a host family. Getting used to cultural differences proved to be a slight challenge for her in the beginning, but Lucier quickly adapted to her new environment. 
"I think that there were a lot of cultural differences, just small details that I had to pay attention to, especially in the household that I stayed at. In Spain, their daily clock of when they eat and sleep is different from the US, but there was nothing too hard to adapt to."
Although studying abroad amidst the pandemic presented its challenges, Lucier believes that some COVID guidelines actually improved her experience.
"When I arrived in Barcelona, no tourists were allowed so the destinations that would usually be packed with people were quite empty. That was actually really awesome."
Although Lucier enjoyed the classes and activities, her favorite part of the trip was getting to know the other nine program participants. Lucier believes that her small class size fostered a closer relationship between the students.