Shorewood welcomes new staff members
Kathryn Aemmer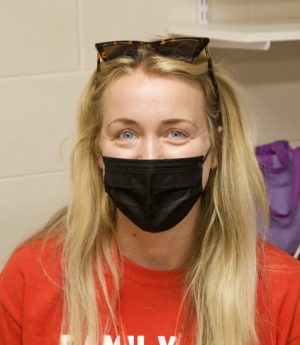 Kathryn Aemmer is the new Integrated Health and Lifetime Wellness teacher at SHS.
Aemmer attended University of Wisconsin-Whitewater, where she got degrees in physical education, health education, and adapted health education, a course that specializes in working with students with disabilities. She has previously taught health education and physical education at two high schools in Wisconsin.
Since first grade, Aemmer knew she wanted to be a teacher, however, she didn't know what exactly she wanted to teach. Only until reaching high school, did she realize she wanted to teach PE.
"At my high school, we had this program if you were a junior or a senior you could become a freshman mentor, or a gym leader you would help out with each freshman class, encouraging, equipment set up and takedown, lesson planning, whatever it may be," Aemmer said. "So I realized through that that PE was my favorite class, and helping out kids was my favorite thing to do."
Aemmer's passion for health class didn't surface until college.
"Health came later, when I went to college, and I just wanted to expand my repertoire of what I could teach, but then I realized that I stinking love health, and now my passion is mainly in health. Because I get to teach kids about themselves, and about not only health, but advocating for a community."
Although neither Lifetime Wellness nor Integrated Health are new classes, Aemmer is going to be able to alter the curriculum this year.
"I actually got to structure both of my classes this year, and that's super exciting."
Aemmer is going to incorporate resources she has from teaching at previous schools into Integrated Health. For Lifetime Wellness, Aemmer is essentially building the curriculum from the ground up.
"I'm building a skill based curriculum, so students are basically learning how to utilize your influences and health, your interpersonal relationships with others, or to find reliable resources, goal setting, decision-making, and I want to finish the semester off with advocacy."
Aemmer thinks that a good physical education is crucial for high school students.
"The number one cause of death in the U.S. for adults today, is cardiovascular problems. So the fact that people are overweight, and so a very important thing for kids to learn is how do you stay active. In Lifetime Wellness, I'm trying to give them tips and tricks on how they can stay active for lifetime."
Grace Kosmatka
Grace Kosmatka, Biology and AP Biology teacher at SHS, will continue this year as Kelsey Burke's long-term substitute. During the second semester of the 2020-21 school year, Kosmatka began a student teaching position under Burke's leadership. After Burke departed for her maternity leave, Kosmatka continued teaching in her position.
Kosmatka majored in Biology at Edgewood College before attending the University of Wisconsin-Milwaukee's Area Collaborative Secondary Science Teacher Education Program (MACSTEP). In between her graduate and undergraduate degrees, she worked as a special education assistant in elementary education and during college as a counselor at a summer camp. These experiences cemented her passion for helping and educating students.
"I was working for that summer camp and I realized that I loved, loved working with students and teaching them about biology and environmental science because it makes sense in my head," Kosmatka said. "I'm able to apply science to my own life so I think that's how I kind of like to do it as a teacher. I like to try and apply science to their lives."
Kosmatka hopes to build a student-centered classroom environment, where self-discovery is prioritized over lectures and other traditional methods of education. She hopes to make classroom activities and labs a central focus in her courses.
"I like to make it more of a student-based classroom instead of a teacher-based classroom… when I did an activity, those were the things that I remembered, I didn't remember sitting in class and my teacher saying something about photosynthesis."
One of her goals for this coming year is to build better relationships with her students and their families in order to set students up for success. She also hopes that her biology students will learn how to ask for help and that she can be an approachable mentor for all of her students.
"I think my goal also is to create better relationships with students… I feel like getting to know communities and getting to know families will really help me as a teacher and to really help that student who is struggling a little bit. I feel like the hardest thing for many freshmen [and] sophomores is reaching out for help, so my goal for my freshman and sophomore bio students is to [get them to] come to my room for help."
Another goal Kosmatka hopes her students gain from her courses is an ability to evaluate scientific sources and determine reliability of online resources. While a concrete knowledge of biological science is important for her students to gain, Kosmakta would rather they learn how to critically interpret information.
"I don't want my students to leave my classroom having the nitty gritty steps of mitosis and meiosis memorized, I don't think that's the biggest thing. I think the biggest thing, especially as a science teacher, is having students find reliable sources and reliable information."
In her free time, Kosmatka enjoys spending time with friends and family, her dog and doing outdoor activities and sports (including running with the Shorewood Girls Track and Cross Country teams). Eventually, she hopes to move to Colorado to be around the mountains, her brother and the ecosystems in that area of the country. But for now, Kosmatka considers herself lucky to be teaching in Shorewood.
"I'm excited to be at Shorewood for my first official year of teaching because it's a school where I feel like I can try new things and if they fail, things won't go horribly wrong because the students are always very open to new things and open to trying different things… I feel very grateful to be here and to be in this community."
Hayley Kutz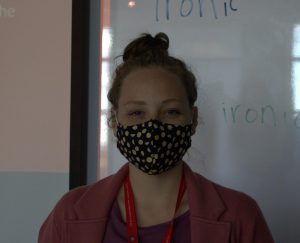 Hayley Kutz, is the newest addition to the SHS English department. She is teaching English 1, Elements of Communication and Composition for College.
Kutz graduated from the University of Wisconsin-Milwaukee with degrees in English Language and Literature as well as Early Adolescence Education. Currently, she's pursuing a Master's degree in Education at the University of Wisconsin-Lacrosse. Living around Shorewood, Kutz was interested in the new position at SHS when it opened.
"I used to live actually right on Providence, so a couple of streets down UWM, and I really like the Shorewood neighborhood. I think that Shorewood has definitely put equity and justice as their main focuses as a community and as a school, and those things are really important to me," Kutz said.
Prior to coming to Shorewood, Kutz taught at Wedgewood Park International School, Riverside University High School and Germantown High School. Kutz is looking forward to continuing her career at SHS.
"I'm really excited for the culture here, it seems like the school really appreciates autonomy –– students being responsible for themselves and for the equity work. It's beyond any other school district I've even seen."
The English department has helped Kutz adjust to her new position. Kutz plans to bring in a variety of literature to the classroom.
"I'm getting my master's degree in culturally diverse learning, so I'm hoping to bring a lot of culturally diverse literature to the classroom, so that we're not reading the same old white men all the time."
Along with teaching, Kutz has many interests and hobbies, including crocheting, taking walks around Shorewood, watching lego videos with her 16 month daughter and baking with her family.
Taz Landry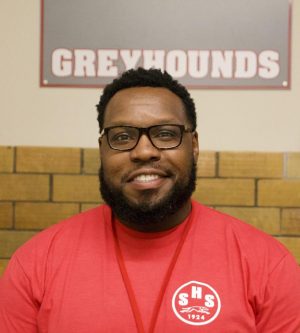 After longtime Shorewood athletic director LeVar Ridgeway vacated the position over the summer, the district hired Taz Landry to be Shorewood's new athletic director. 
Landry's last job was as an athletic director, and he is excited to continue working in the athletic field at Shorewood.
"For the past six years I was the founding athletic director at a high school called Cristo Rey in Milwaukee," Landry said. "I was also the Phys-Ed teacher and head track and field coach there. I built that program from the ground up: when I started there we had no sports and when I finished there we had 16 sponsored athletics through the WIAA."
Landry played both soccer and football in the past, but currently enjoys more live sports.
"Right now I enjoy live sports, like golf, tennis etc. Football is something that took me to and through college."
 This isn't Landry's first time in Shorewood's athletic department. He coached the Messwood football team 10 years ago and loved the athletes, coworkers and community that came with it.
"Having that previous experience made me interested to come back to explore other opportunities that I have now."
While the new job is exciting to Landry, being an athletic director comes with great responsibility, especially during the pandemic.
"My big responsibility would be to find ways to engage students to participate in athletics, but also provide opportunities for students to continue participating in athletics during this pandemic, so making sure that they still have that outlet even though we're all experiencing some pretty serious days in our world today."
Besides being an athletic director, Landry enjoys working out and supporting his children in their sports.
"When I'm not around Shorewood athletics, I'm following my own children around and their athletics, which are tennis, golf, swim, horseback riding, etc."
As fall sports begin, Landry is excited to continue the strong athletic tradition at SHS.
"I'm excited to be here, I'm excited to continue the robust athletics that were built here and I'm excited to engage with and meet student athletes and know that I'm a resource as well. Whenever people have questions or want to stop by, I'm here."
Jesse Perez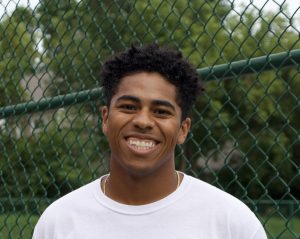 As Shorewood High School begins its 2021-22 school year, Jesse Perez is excited to get started in his new position as American Society teacher at SHS.
"Shorewood is known for excellence academically, but also it's known for really putting their money where their mouth is in terms of equity and trying to reach every student and give them the best possible education so I'm really excited to come here for that," Perez said.
He looks forward to teaching American Society this year because he appreciates the opportunity to give students a well rounded and equitable social studies education.
"I think that [social studies] is something that is so important for kids to learn, and I think that there are so many gaps that we've had throughout our lives… I like to find those things that have happened that people don't know both sides of and really give people exposure to those things." 
Perez cares about making sure his students are seeing many different viewpoints on the material they're learning.
"I like to pull in experiences and other people who are really smart and really wise and… give kids the opportunity to hear from people who they may not have otherwise heard from."
Since being hired, Perez feels the SHS staff has done a great job helping him navigate through his transition to teaching at Shorewood. 
"[The staff] is super welcoming, super amazing, and I'm looking forward to working with a very, very talented social studies department. As soon as I got hired, the night I accepted the position, they started texting me non-stop."
Perez studied history at Judson University in Illinois before moving between five different schools in his seven years of teaching. Last year while teaching, he was also coaching tennis teams at a different high school. This year, as assistant coach of the SHS girls tennis team, he's excited to be teaching and coaching at the same school for the first time in his career.
"I like to coach because I like to give the opportunity to really enjoy a sport that a lot of people like… I made really great relationships… absolutely loved all of the players that I worked with, so I just look forward to coaching as much as I can."
Besides teaching social studies and coaching tennis, Perez likes to watch anime, read manga, and travel. 
"I will try anything as long as people are there and it's something new."
Gina Schindel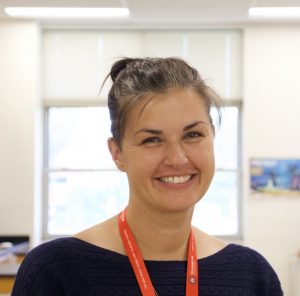 Gina Schindel, hired in the spring of last year, is teaching four of the five sections of physics and the only section of AP Physics this year.
Schindel attended Oak Creek High School. She struck an interest in math and science problem solving, and she especially enjoyed the more interactive structure of her physics course. She attended UW River Falls and ran track while majoring in physics. While working professionally, Schindel began coaching high school cross country and track. After sitting in on a physics lecture at the school she coached, she began to realize the demand for fun physics teachers like the one she had in high school.
"My high school physics teacher, her name is Judy Schmidt, was really involved with AP Physics and developing really fun and hands-on physics curriculum, so my high school physics experience was very different to a lot of people at the time," Schindel said. "And now a lot more teachers do some of those fun things she did like… egg drops and rocket launches."
Schindel generally works to motivate students by focusing on an individualized model of teaching, understanding that every student needs a different level of support and practice. She makes the effort to connect with students about their hobbies and interests, so that she can find creative ways to tie some of their favorite activities to physics. This means that Schindel enjoys teaching students who have a variety of motivations and interests for taking her course.
"At Oconomowoc, everyone took physics and [it] was fantastic to have an inclusive classroom like that, where it wasn't just the same type of a student and we can all learn from each other. Then the student who has built his own engine understand[s] the forces and understands the electricity unit really well and has things to contribute that maybe they don't necessarily feel that they can contribute in an honors level or AP level English class, but in physics, even if it's not AP Physics, they can contribute."
Schindel also believes that it is important to construct an environment where all of her students are comfortable sharing and learning at their own pace. While she would like it if each of her students had a passion for physics, it is more important to her that her students value each other's contributions and joke around.
"I want to like coming to class everyday and I want my students to like coming to class everyday. I don't need them to like physics, I never need someone to say physics is their favorite subject."
After returning to UW River Falls for her master's in education, Schindel taught at West Allis Central, Oconomowoc High School, Franklin High School and most recently at New Trier High School just outside of Chicago. Schindel was interested in accepting the job in Shorewood because the tight knit village atmosphere appealed to her, and she has family in the area.
"I'm just really looking forward to getting to know everybody. It'll be very different. I'm coming from a school that has five thousand students to come to a school like Shorewood where it's like 600 to 700 kids, so I think it's going to feel more like a tight-knit community, more like a family kind of feel."
She looks forward to getting to know and learning from the community of Shorewood, other staff and her students.
"I'm just really excited… Every place I go I learn something new, and I learn from the other teachers and I learn from the other students."