Walkout calls attention to racial injustice
Student organizers seek to bring back attention to BLM movement
To raise awareness against the ongoing police brutality and racial injustices happening across the nation, Sheta Schutz and Lauryn Evans, freshmen, organized a walkout for Tuesday, May 18. Schutz and Evans thought that these issues were important to share, especially at a predominantly white school.
"I think that because of the lack of diversity it is really important for Black students to have the opportunity to speak out about these kinds of problems," Schutz said.
"[Black students] don't get talked about enough and when [they do] get talked about … it's like a script or something," Evans said. "They teach [about racial injustice] as though it's not happening anymore, but it's still happening till this day."
The event began at 12:45 p.m. with all participants gathering on the SHS front lawn. Schutz was pleased by the size of the crowd. Including SHS and SIS students, as well as other community members, she estimates that around 200 people attended. 
Lauryn Evans"I'm very satisfied with the turnout," Schutz said. "I think it was amazing. I'm really glad that everybody came. I'm really glad that I was able to have this experience and see so many people here to support [us] and the cause."
Speeches were given by Amaya Andrews, freshman; Alicia Obiakor, senior; and Bryan Terry Jr., junior. Terry was inspired to speak in support of the organizers as well as the cause.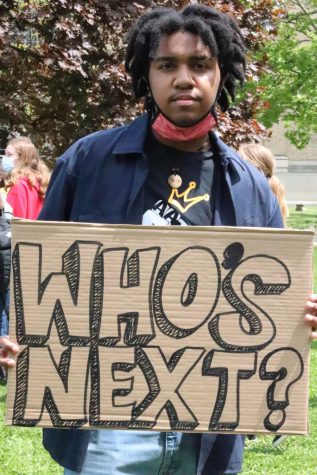 "I just thought that it was really important, especially that the people organizing this were two freshmen," Terry said. "I just wanted to be there and help them organize this and say what I needed to say … now that we have the opportunity to do that again."
Terry also wanted to continue the momentum after the series of Black Lives Matter protests that occured last summer.
"For the Black students it never really ends," Terry said. "I think that some people after last summer kind of thought 'Oh it's all over now,' but as long as we're here in this space, there's always going to be racism and … police brutality happening until we get some concrete change which we still haven't gotten yet."
From SHS they marched to Atwater Park, yelling different chants along the way. At Atwater Park, the participants gathered once more to listen to speeches by Hiwot Schutz and Alemitu Caldart, seniors. Towards the end of the event, the microphone was opened up and students were encouraged to share what their takeaways from the walkout were. Peter Thomas Haigh, seventh grader, was one of those students.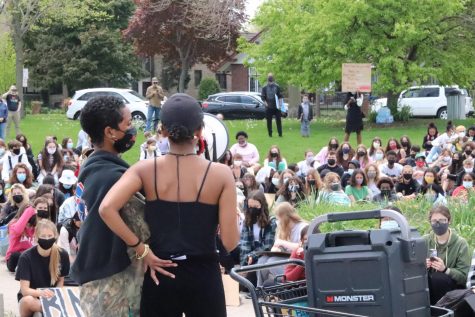 "There [are] a lot of inequities, and I feel as a white person it is my civic duty to stand up for people whose voices are being misrepresented in today's media, Congress and just in society," Haigh said in an interview. "People are just being stepped on." 
Haigh continued.
"I just wanted to give a big call for people to unify around because I think it's important to remember we have the power to change things, not just in the future, but right now," Haigh said. "If we can gather around this many people in such a short amount of time without the help of many adults, imagine what we can do when we're older, when we have more public access and when we're in positions of power."
Terry reflected on the experience.
"Before I've always just kind of walked here and listened to others, but to get a chance to finally speak and be at the front of the protest really kind of leading it almost, it's a lot different," Terry said. "It was a really cool experience and I'm glad I signed up to do it."
Both Schutz and Evans hope to organize more events like this in the future.