Junior spends a semester immersed in nature
Juliet Peterka, junior, spent her first semester at High Mountain Institute (HMI), an alternative high school in rural Leadville, Colorado, with a strong focus on place-based academics and outdoor experiences.
At the beginning of the semester, a group of nine students and three instructors completed their first of three backpacking trips, this one in Colorado's Sawatch mountain range. Each day the group would balance hiking and navigating to their next destination, setting up camp and completing homework. For Peterka, the experience was both stimulating and challenging as she had not been away from her family for an extended period of time and had no prior experience backpacking.
"I had never been backpacking before, but I've always been curious about it. But I haven't had the knowledge or even the resources," Peterka said. "I never realized how I could spend so many consecutive hours and so many consecutive days without going indoors."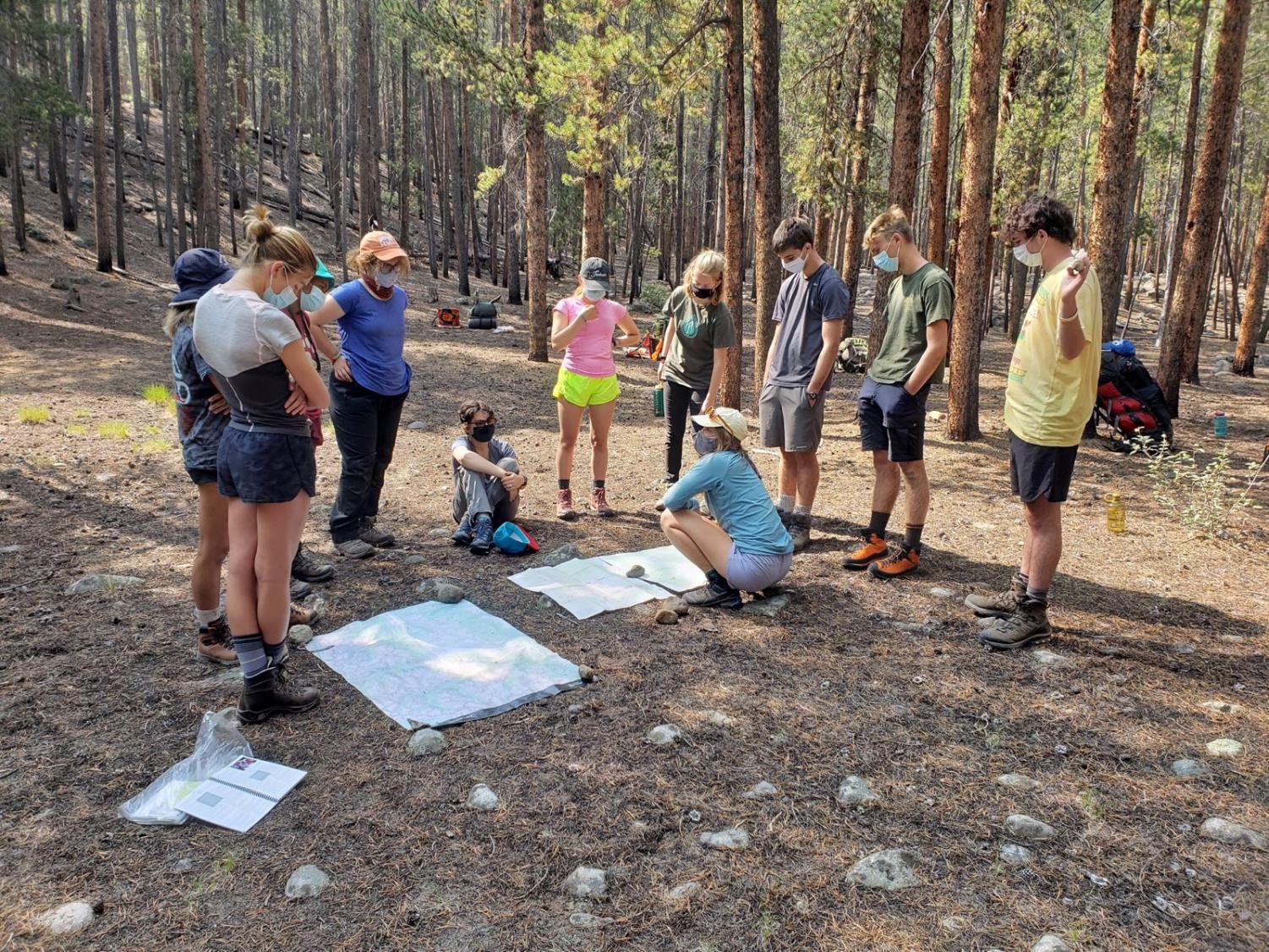 This experience, as well as the other two trips in the canyons and deserts of Utah, allowed Peterka to grow and develop a variety of skills. For example, since they had no technology to use for navigation, Peterka and her peers used topographical maps with contour lines to find their way around the mountains. 
"I did not have a good track record with maps or directions in general but thankfully [the instructors] taught us what to do."
To complement the school's focus on the outdoors, students were not allowed to bring their phones or use social media. While she valued the break from most technology, it was difficult to be isolated from friends and family and to have limited knowledge of current events.
"I think it's a reason why a lot of people choose to come to HMI, they sort of want to get away from that screen mentality that is kind of common."
However, even though she felt isolated from the outside world and her family, Peterka quickly bonded and formed communities among her peers and instructors.
"As cliche as it sounds, you have a home at HMI, so missing home doesn't feel as hard."
Despite not having the distraction of social media, students were kept plenty busy with an invigorating approach to class that challenged Peterka. Classes were based around both discussion and the surrounding environment: Peterka learned about acid mine drainage by visiting an actual mine site, spent time studying lichen on slick-rock in the canyons of Utah, and found real examples of Fibonacci's sequence in the desert.
"We were able to see the process of collecting data and see, with our own eyes, the effects of the ecological ideas that we were discussing — I really liked that."
Peterka and her peers engaged with the environment through an environmental perspectives and ethics course as well. This course allowed for thought provoking conversations about how responsible land practices land ownership should function, among other moral discussions.
"It was nice to have, in science class, the hard science [or] natural perspective on the environment and in [the other] class more of an ethical one and a moral perspective on how we interact with the environment."
Through their course content, discussions at HMI centered around the brutal history of Native American land, specifically land near their campus. Peterka noticed that this was different from classes at Shorewood's schools.
"We always had land acknowledgements at the beginning of our classes which is something that Shorewood does not do… [but it's] obviously, not enough to just acknowledge."
The topic of Native Americans was prevalent in many of her classes, such as when they read "Ceremony" by Leslie Marmon Silko which focuses on the effects of colonisation of Native American people. In order to understand the complex thematic events and symbolism in the novel, Peterka and her classmates discussed the novel instead of listening to a more traditional lecture.
"It was never our teacher lecturing us about what was going on, it was more people just talking and bringing their own insights and having a bunch of discussions about [the] novel, which was cool."
This approach to learning challenged Peterka more as it required her to prepare fully in order to participate and fully grasp course material.
"People would do their homework and bring all of these new ideas to a discussion and if you wanted to participate in the discussion on an equal level, you had to do the work to participate and be prepared for it… it was more demanding and more engaging because people were bringing more effort into it."
This experience allowed Peterka to be challenged in ways she never had been before. She was put out of her comfort zone in many ways and grew intellectually while interacting with nature. She fully recommends this experience to others. 
"If you are looking for a challenge academically, physically, socially and personally as well — any type of challenge — I think that HMI is a really cool way to push yourself out of your comfort zone… If anyone ever has any questions about it they can ask me and I totally recommend it — it was really cool."