Young gymnastics team shows spirit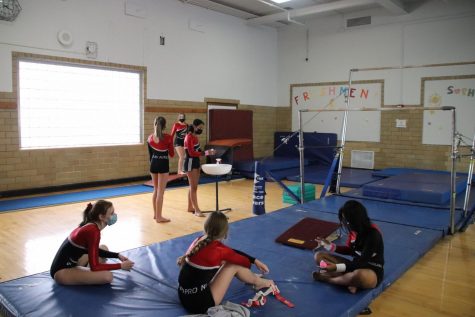 The girls gymnastics season is wrapping up. They competed in conference on February 13.
The pandemic has changed the way Shorewood students play sports in-person, but the team has been successful in adjusting to new protocols: they space out, wear masks during practice and meets, wipe down equipment and limit spectators. Typically, the meets are streamed for parents and friends to watch. 
"We already don't have many girls on the team so we don't have a big issue with social distancing and having too many people in the gym at once," said Oona Krukowski, senior and team captain. 
As captain, Krukowski helps the coaches and encourages the team to feel confident when learning new skills. She joined the team sophomore year and competes as varsity all-around, participating in vault, bars, beam and floor.
"I lead warmups and workouts as well as giving pep talks and connecting with the girls as their teammate," Krukowski said. 
The team consists of three upperclassmen and a handful of freshmen, so the majority of the team are newcomers. Marie Arndorfer is one of them. 
"I became closer with our team captain, Oona, a few weeks before the season started and she recommended I join. I asked a few friends and we decided to give it a try and [we] ended up really liking it," Arndorfer said. "It's helped me become closer with new people that I had missed since school was shut down."
With the small number of girls on the team, the coaches feel very involved.
"The other coaches and I were happy to see a lot of new girls out for the team this year," said Samantha Sullivan, head coach. "They are a very motivated group and are constantly working on new skills and perfecting their existing skills."
Sullivan is in her ninth season as the head varsity gymnastics coach. She helps the girls enhance their gymnastics skills and routines and also set line-ups for meets.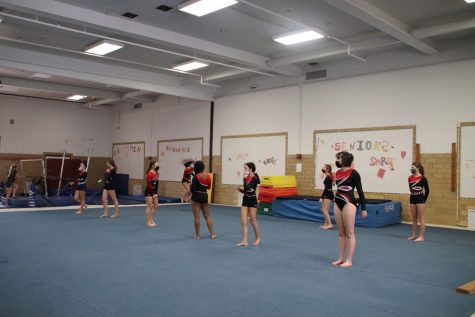 "I have been involved with the sport of gymnastics since I was three years old," Sullivan said. "I competed into high school and then began coaching shortly after." 
Many of the girls hope to achieve the goals they set for themselves at the beginning of the season.
"My personal goal for the season would have to be adding new tumbling skills to my floor routine. I would also like to raise my all-around score," Krukowski said. 
"I want to add a twist to my vault round off, get a flyaway and solid bar routine, have a superior dismount on the beam and get my aerial back," Arndorfer said. "I sprained my ankle the few first times I did it last, [back] in the beginning of the season."
The team hopes to send a few members to the WIAA state competition. 
"Our team goal is to end the season with a high team score and it [would be] great to send a girl or two on to the state competition in LaCrosse," Sullivan said. "We also hope that the girls get skills that they have been working on all season long."