Boys swimming places 6th at state meet
Many sports this year at SHS have had to adjust to competing with COVID protocols in place. Boys swimming was no different, performing impressively in an abnormal season. This season has been one for the ages, in both the team's performance and the unique situation.
"[The season was] definitely weird, but this group of guys are so hard working, it was almost like we weren't in a pandemic," said Cassandra Rodriguez, head coach. "We just had to get creative with some new training ideas and they seemed to embrace it."
Kyle Griswold, junior, said that team bonding took more of a backseat than before. 
"COVID didn't have much of an effect on our actual practices, but it did have an effect on our out of practice activity," Griswold said in an email. "This year… team activities outside of practice were pretty limited."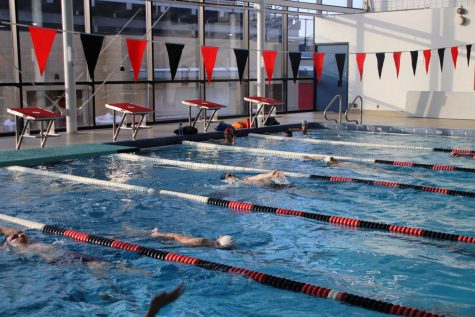 Safety protocols were enforced during races, and social distancing was able to be maintained. 
"Deck protocols were very different," Griswold said. "Masks were required any time you were out of the water and there were less people on deck. Other than Conference, Sectionals and State, there were no invitational meets this season. Meets were limited to dual meets to prevent large groups of people and spectators were not allowed." 
There were fewer meets this year due to the pandemic, which was a difficult change for the team.
"The hardest part [of this season] was losing out on the numerous swim meets we normally have," Rodriguez said. "The guys definitely missed the competition."
Members of the team had a lot of confidence going into the season, which showed once they started racing. The team placed third at the WIAA Sectional Meet, second at the Woodland Conference championship, and sixth in the state meet for a great end to the season. 
"We qualified seven people for state this year, which is almost double the size of our state team last year," Griswold said. "Everyone swam really well this season and it was great to see everyone's progress."
""The best feeling as a coach is to see your swimmers look at the clock after a race and smile knowing they achieved their goals," Rodriguez said. "Especially during this difficult season, it was extra special."
The team was able to improve individually from one year to the next, even during the pandemic.
"I felt that my performance has increased since last year, and I've started to put in more effort," said Quinn Corcoran, junior.
The team will be ready for whatever lies ahead next season. 
"
I'm so excited to see them climb the ranks in Wisconsin
— Cassandra Rodriguez, head coach
"I think next year our team will have a good shot at winning conference and sectionals," Griswold said. "We are only losing one senior next year, so we should still have a relatively large team,"
Rodriguez also has confidence in the future of boys swimming.
"This team is a very young team — we only graduate one senior this year, so these guys are only going to get better as they get older," Rodriguez said. "I'm so excited to watch them climb the ranks in Wisconsin swimming and shock a lot of people in the next few years."
So far this has been a very successful season for boys swimming. The team expects to continue that way into the future.