Inauguration fashion breaks the norm
Wednesday, January 20 was not only a remarkable day in history, but also in fashion. A number of extraordinary styles were on display from prominent political figures, including a few breakout stars who have made a name for themselves on this important day. Kamala Harris, Michelle Obama, Amanda Gorman, Jill Biden, Ella Emhoff and Bernie Sanders all displayed notable looks at the Capitol.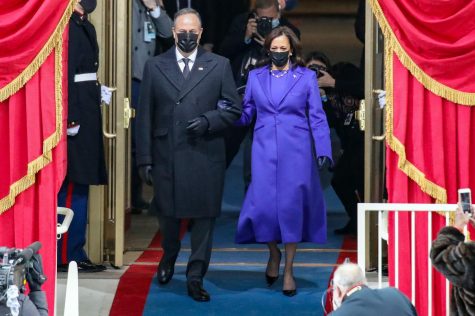 Vice President Kamala Harris represented prominent Black designer Christoper John Rogers. Rogers, who won the 2019 CFDA/Vogue Fashion Fund award, is an outstanding young artist from Baton Rouge, Louisiana. This is not the first of Rogers's major projects; he had previously designed for other noteworthy women like Michelle Obama, Beyoncé and Rihanna. Harris's striking look displays a purple dress with a matching purple coat. As the first female vice president in U.S. History, Harris made history in style.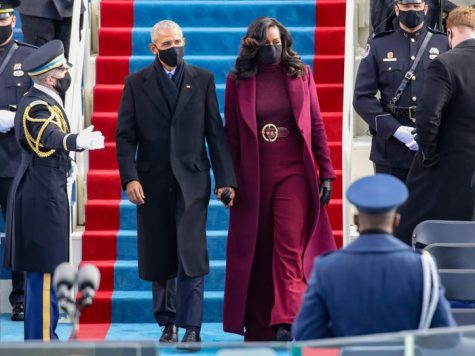 Former FLOTUS Michelle Obama's monochromatic cabernet pantsuit was certainly a standout look. Purple was definitely a prevalent hue among women attending this ceremony, but Obama made the popular trend her own by going with a more subtle magenta tone. Designed by the talented Black fashion designer Sergio Hudson, the pairing of the turtleneck sweater with wide-leg pants gave Obama a practical yet elegant look. With the finishing touches of the flawless hair and oversized belt, this outfit is one of Obama's most iconic styles. Obama's flattering design supported the work of Black Americans while displaying her acclaimed sense of fashion.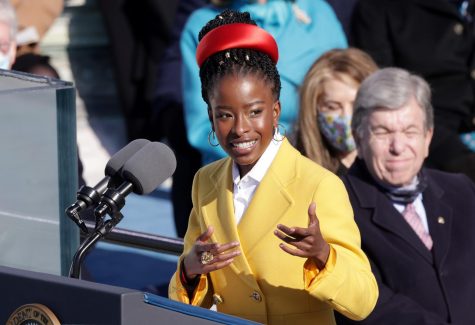 Through her striking ensemble and powerful performance, Amanda Gorman made an unforgettable statement at the inauguration. Gorman's whole look, from the eye-catching yellow coat to her stylish black boots, was designed by Prada. The colors radiated on television screens across the nation and her vibrant red headband was the perfect touch to pull the outfit together. According to the fashion search engine Lyst, Gorman's wardrobe led to a 1,328% increase in searches for "yellow coats" and a 560% increase in "red headbands".  Her image of brilliance is one that all American's have aspired to follow. As the youngest inaugural poet in U.S. history, Gorman required a look to echo her confidence and strength, and this one does the job!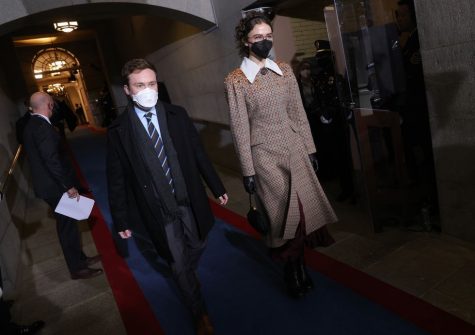 Ella Emhoff, Vice President Harris's 21-year-old step daughter, stole the show with her eye-catching outfit. She instantly became an internet sensation, especially among younger audiences. She is a student at the prestigious Parsons School of Design in New York. Her houndstooth-esque jacket comes from Miu Miu, Italian high fashion women's clothing and accessory brand and a fully owned subsidiary of Prada. The embellishments on the shoulders, the large button, and the white collar make this a quirky statement look. She also wore circular wire-rimmed glasses and carried a handbag, wore black leather gloves, a black mask, and a black headband by the brand Loeffler Randall to pull the whole look together. Emhoff recently signed a modelling contract with IMG Modelling Agency; her appearance at the inauguration as a fashion icon is most certainly not her last!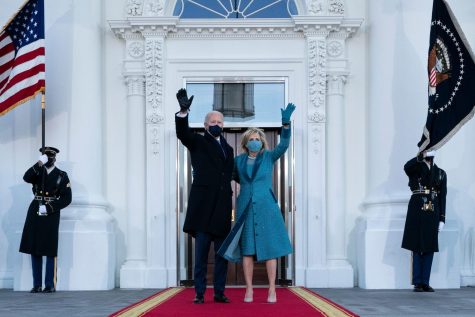 As she stepped into her new role as First Lady of the United States, Jill Biden did so with style. Biden entered the event carrying an air of class and elegance from head to toe. Her breath-taking blue look was designed by Markarian, a small New York City brand by Alexandra O'Neill. Although Markarian is somewhat underground, especially to those outside of the fashion circle, they have dressed celebrities like Laura Dern, Kerry Washington, Millie Bobby Brown and Anna Kendrick. Dr. Biden is purposeful as she chooses to represent this stunning matching coat and dress set, and use this exposed event as an opportunity to uplift a young and upcoming woman designer.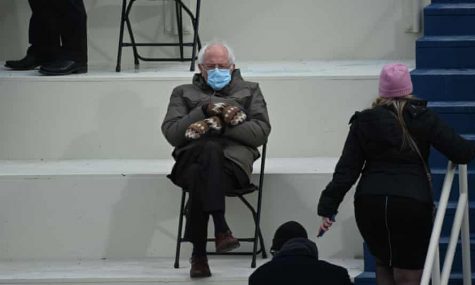 Finally, by far one of the most notable fashion appearances at the inauguration was Senator Bernie Sanders and his iconic mittens. Sanders was pictured sitting in a chair with his legs crossed looking rather cold, which sparked a storm of memes, tweets, posts, and art. His mittens are from a Vermont elementary school teacher, Jen Ellis. Ellis is