Just a Taste: Natasha Davis reviews local restaurant chain, Falbo Bros Pizzeria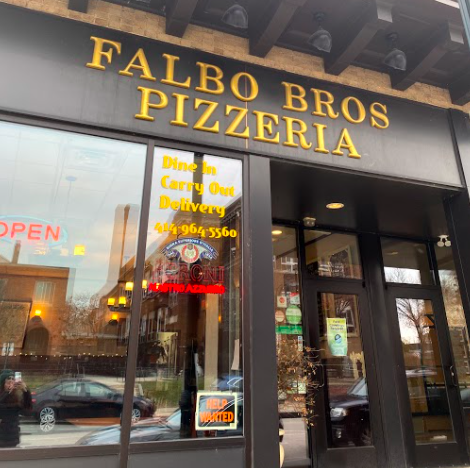 Falbo Bros Pizzeria has been a staple in the Shorewood community since 2012. Serving thin-crust, stuffed and deep-dish pies, the Italian cuisine of the restaurant is varied. Pasta, sandwiches and salads also are included.
You may be surprised to know that Falbo Bros is a franchise that started in Madison, Wisconsin by two university graduates in 1992. Our location is one of ten in both Iowa and Wisconsin. 
Located at 2213 East Capitol Dr., this restaurant has remained a favorite in my family since they've opened. According to their website, they pride themselves on using "high quality ingredients and combining them with [their] traditional pizza technique". Their pizza is cooked from scratch using stone deck ovens. 
Sizes vary from small to extra large or 10 to 16 inches, increasing by intervals of two. You can opt for their classic pizza combos, or you can add your own toppings to your liking. Prices vary per pizza depending on the size, type of crust, and toppings. I would say they are pretty reasonable for the quality you recieve. 
We ordered online through their website, which conveniently shows what the restaurant has to offer. They are available for pickup or delivery with a three dollar fee.
During the early days of quarantine, my family ordered from this local restaurant a great deal. The thin-crust cheese pizza is highly recommended as well as the bruschetta as an appetizer. Each included savory flavors with fresh ingredients making you feel like you are in Italy. 
Everything came in clean beige packaging. Unfortunately, the sandwiches we ordered were cold and the garlic bread didn't travel well. I've had the fortune of having the garlic bread before, so I can safely say the delivery time was the only problem. Crunchy on the outside, moist and soft on the inside. The bread was exactly how it was supposed to be. A visible seasoning of oregano and an olive oil drizzle topped it off. 
As a vegetarian, Italian is always a good option that is super versatile. Pizza and pasta are good with and without meat. At first, I ordered the Falafel Flatbread Sandwich. It isn't traditionally Italian but as per my last review, I'm a sucker for falafel. Unfortunately, they were out of that order and I substituted for the Eggplant Parmesan Hot Sub instead. 
"
Although I'm typically a fan of eggplant, this sandwich did not make the cut.
I found the highlight of the dish, the fried eggplant, to be nicely seasoned with parmesan cheese. It was cooked just right as it wasn't too tough. Although I'm typically a fan of eggplant, this sandwich did not make the cut. It didn't have enough marinara sauce to cover the french bread. Although the sauce that was on there was decent with flavorful spices and onions, it wasn't anything special. The bread was nicely baked and soft, but overpowered what the sandwich was all about. The amount of Romano cheese melted on the bread was honestly way too much. 
My sister went for the Chicken Parmesan Sub, consisting of breaded chicken, marinara sauce and mozzarella cheese. Again, it was described as nothing special and that it needed more sauce. Both sandwiches cost $7.95, which seems reasonable but it's not a bang for your buck. 
As for the pizza, my parents ordered their favorite: the MVP thin-crust pizza. Covered in pesto and mozzarella cheese, the pizza featured roasted red peppers, artichoke hearts, fresh mushrooms, and banana peppers. Freshly baked and hot to the tongue, their pizza travels well. Overall, it's a vegetarian's dream. The combination of ingredients are just unique enough to warrant a taste test.
"
The best thing about Falbo Bros' pizza is that it doesn't fall apart.
The best thing about Falbo Bros' pizza is that it doesn't fall apart. Just the right amount of oil to keep it flavorful, but not enough for it to be greasy. The cheese isn't super stringy that you have to end up cutting it in order to eat it, but it still has a bit of a melted pull to it. The crust was nice and crispy, without it being burnt. I like to describe it as oven kissed. On top of that is some of the best tomato sauce I've had. The potent tastes of basil, olive oil, and garlic elevated the delicious flavor. 
As for our dessert, I couldn't speak more highly of their cannolis. For those who don't know the pleasure that is a cannoli, it is a tube-shaped shell of fried pastry dough, filled with a sweet, creamy filling usually containing ricotta. Falbo's version was crunchy on the outside with a sweet syrupy goodness that contained hints of cinnamon. This italian pastry is a favorite that keeps me coming back. 
An Italian restaurant is only as good as its pizza, and I'm happy to say Falbo Bros passes the test. The homemade crust is cooked to perfection and the thickness of the crust is not thin but not super thick either. Just right in the middle. As for the sandwiches, I was a bit disappointed in their execution. Not only did they not travel well, the flavor wasn't completely right. The subs needed more sauce and something fresh to keep it interesting. 
I didn't get the chance to try out their pastas or salad, but I can't imagine they'd be bad. This local restaurant lives up to its famous expectations. If you have the chance to support local businesses, try out Falbo Bros Pizzeria for your next pizza night.