Fall sports updates
All falls sports have been affected by the pandemic in some way, shape or form. The WIAA released guidelines earlier this summer outlining if and how sports will continue this year. They split fall sports into two groups: low-risk (girls tennis, girls swimming, cross country, mountain biking) and high-risk (football, boys soccer, volleyball). All low-risk sports will be going ahead with modified seasons. Football and soccer have been postponed to the spring. Volleyball just recently got the go-ahead to start their season.
Here is a sport-by-sport break down of how each sport is proceeding:
Football
Messwood Football, which is typically a fall sport, unfortunately has been moved to the spring. Due to the obvious close contact between players, the Shorewood Athletic Department deemed football a high-risk sport, and postponed the season. Messwood Football plans to begin practicing on March 8.
Boys Soccer
Shorewood Boys Soccer, the reigning state champions, will not be competing during the fall. Soccer was declared a high risk sport, and therefore postponed to the spring. The boys soccer season will begin on March 22.
Boys and Girls Volleyball
Like football, boys and girls volleyball was originally deemed a high-risk sport. But after further discussion, the Shorewood Athletic Department decided to allow the volleyball season to commence. Tryouts will be held on September 8 and 9 and the season will follow. 
Boys XC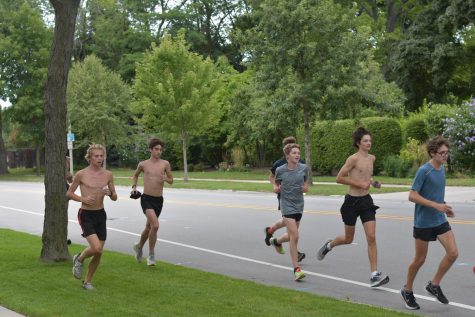 Shorewood Boys Cross Country has had a string of successes in past years, including crowning a state champion in 2019, sectional and regional championships, amongst many other awards, all while under the coaching of Dominic Newman. This year, it looks as though the team will have opportunities to compete in frequent meets, with many approaching quickly. The boys are hoping for a best case scenario in which the regional, sectional, and statewide competitions will occur, but know that it is possible that plans will change.
The team meets at Shorewood High School daily to conduct a socially distant, masked practice. While running, the boys do remove their masks. But, as soon as they stop running and begin to congregate, masks go back on. The Shorewood Boys Cross Country Team will continue to work hard and strive for success during this unpredictable season.
Mountain Biking
In recent years, mountain biking has grown to become an extremely popular sport at Shorewood. Like many other fall sports, mountain biking unfortunately cannot meet as a whole team this season. Instead, they are meeting in cohorts of eight athletes and two coaches. 
"We have always aimed to have a ratio of 1:4," said Sydney Shimko, head coach, "so the small groups of athletes actually doesn't impact us much."
The team has a rule of "foot down mask on," which means that when they are not actively riding, masks will be on.
When they are actively biking, athletes are not always wearing their masks, so they must distance themselves when riding in groups. 
"
We're trying to plan something that goes beyond a typical practice, as far as giving kids something to look forward to
— Sydney Shimko, mountain biking head coach
"When we're stopped, we stay six feet apart. Also when we're riding, especially on trails so we're not interfering with each other," Shimko said
Unfortunately, Shorewood Mountain Biking will not have an opportunity to compete this year. Because mountain biking is not a regionalized sport like many other scholastic athletics are, competitions involve traveling across Wisconsin, which is not feasible during these times. 
Regardless of no competitions, the coaching staff is aiming to keep their athletes interested and passionate about the sport.
"We're trying to plan something that goes beyond a typical practice, as far as giving kids something to look forward to," Shimko said. "Maybe that means trying a new trail, but one that is still local. Or maybe adding some new games and ways of thinking about how to plan a practice." 
Shorewood Mountain Biking will continue to provide a fun, exciting program for students to participate in, despite the odd circumstances.
Girls XC
This fall, Shorewood Girls Cross Country (SGCC) adapted not only to changes due to COVID-19, but also to a new head coach, Geoff Gundlach. 
Summer running officially began in the beginning of July. The team separated into two groups, one meeting at Shorewood High School and one at Atwater Park. The girls split up in groups of two for runs, and remained masked while congregating as a group. 
"
This season has forced us to be thankful for the small opportunities for us to have thus far and focus on what's right in that moment
— Geoffrey Gundlach, girls cross country head coach
"The girls were awesome all summer," Gunlach said. "I couldn't really say enough about them and how regimented they were, their work ethic, their consistency and their desire to run."
As the season quickly approached, the team was thinking on the bright side, hoping for a chance to compete. While the WIAA did not present specific standards for running a safe cross country meet, they did deem cross country a low risk sport, and will allow competitions this fall. 
"This season has forced us to be thankful for the small opportunities for us to have thus far and focus on what's right in that moment, in that day with each practice, and not really have any expectation that there's going to be necessarily a culminating event or something there for us," Gunlach said. 
Luckily, SGCC will have the opportunity to compete this fall. The team meets Monday – Friday at Shorewood High School. They are continuing to practice safely and stay motivated during this unprecedented time. 
Tennis
Eric Nelsen, girls tennis coach, grew up and played tennis at SHS. Now, he's got the opportunity to teach it. 
"My mentality is that tennis is only half skills," he said. "You see kids win, and do better, because they know how to play tennis. Someone who knows how to play tennis beats someone who's got better skills often, because they're better at the game itself."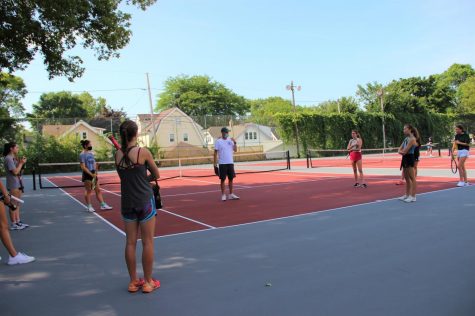 Tennis meets every weekday on the SIS courts; most matches are on Tuesdays and Thursdays. Unfortunately, no spectators are allowed at home matches. This season, athletes will spread out across courts, with three or four people on the court at once. Off the court, everyone will wear masks and stay six feet apart. Tournaments have been canceled, and JV and varsity will be separated during practices and matches. Each player will have their own balls in practices and games. 
With the new danger of the coronavirus comes challenges for the team to face. Nelsen said that the team will try to use tennis games as a motivating factor instead of big-scale events such as parties and dinners. 
"What's great about it this year, and why I think it is motivating, is the chance to see people that they like and interact with them and do something in person," Nelson said. "I think it's a great way to be competitive, and a great way to learn how to compete and learn how to challenge yourself, but it's also a great way to build friendships and have fun and enjoy school." 
He hopes this season will give girls a way to enjoy the school year ahead.
 "Shorewood has always had pretty good tennis, and my motivation is to bring that opportunity, all those opportunities, to as many girls as possible."
Girls Swimming
The pools are treasured places in the high school, and are used by many patrons, including the swim team. For a long time, they have given community members an outlet to exercise, relax and enjoy themselves. Lizza Korolev, a member of the swim team, is one of them. 
"I have so many memories attached to this pool," she said. 
The girls swim team is, like other sports, adapting to new circumstances. Swimmers arrive wearing masks, and the girls are split into two groups that practice at different times. The team is hoping to combine practices later on in the season. There are only two or three people per lane. The team may be doing virtual meets, where teams would compete at their separate pools and compare results online using a website or app. 
Locker rooms have been eradicated. 
"We're used to having a close group of girls together," Korolev said. "After practice, in the locker rooms, we'll sit there and talk for a long time. Now, we can't go there at all." 
In the wake of COVID, many athletes are finding familiarity in their sports' routines, friends and places. 
"I'm just glad to be back in our pool," said Korolev. 
Despite some unseen changes, the girls swim team is off to a great start in their season ahead.