Familiar face takes over as girls cross country coach
This fall, Shorewood High School welcomes new girls cross country coach, Geoffrey Gundlach. Gundlach began running at the end of high school, and then ran in college at UW Oshkosh and qualified for nationals with his team. Prior to coaching at Shorewood, Gundlach worked for six years at the University of Dubuque, spending the last two years as the head coach. According to Gundlach, he developed an interest in coaching at Shorewood after hearing about Shorewood's reputation of excellent high school runners. He contacted Dominic Newman, head boys cross country coach and track coach. 
"I was looking for area cross-country teams at the high school level that I could help out with and volunteer as an assistant. One of the names that kept coming up is someone that was very accommodating, approachable, and someone that was a good person to work with and work for was Dominic Newman," Gundlach said. "The girls [cross country team] reputation was very sterling as well."
Since moving to Milwaukee in June of 2017, Gundlach has immersed himself in the Shorewood community. 
"I live half a block from school," said Gundlach. "I was a long-term sub here for 16 weeks, I did my student teaching here, so I've been kind of immersed in the community now for a long time, and it's a special place."
The team is coming off a very strong season, after making program history by winning the State Championship last year. Gundlach sees his role as doing more than just maintaining the current talent the team has. 
"Obviously coming into a very successful program you don't want to be kind of in maintenance mode like yeah, we have six of out of our top seven girls back and you know, if you look at it objectively we're a very good team but as soon as you start feeling like anything's going to be handed to you is when you really really suffer," Gundlach said. "I want to help everyone continue to develop their relationship with running itself and to set them up [to be] healthy."
Gundlach's unique teaching style has been new to the runners this year. He meets the needs of each runner based on their current goals, needs and skill level. 
"You have to coach the individual," Gundlach said. "No two individuals are the same, so you can't have a cookie cutter training program or regimen."
Louisa Fowler, sophomore, mentioned that the team really appreciated his personalized training plans.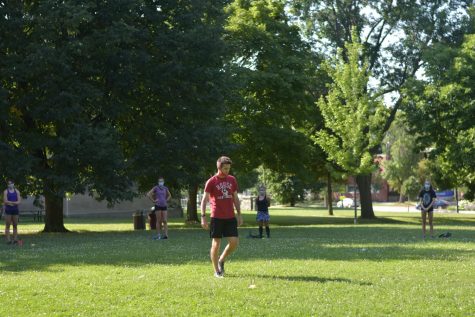 "Geoff has created personalized training plans for each of us, indicating what workouts we should do, how much time we should spend, how many miles should we run a day," Fowler said. "That's something that we really appreciated because it made it feel like he paid specific attention to each of us."
JD Optekar, parent of runner Grace Optekar and former college runner and current coach of the intermediate's schools track team, also expressed his appreciation for Gundlach's coaching style.
"I think Geoff is a little bit more tapped into some of the science behind what's going on," said Optekar. "He's going to tailor programs specifically to their abilities and what they can do and hopefully maximize their potential."
However, because of the COVID-19 pandemic, there will be some missed traditions including the annual camping trip and Griak race in Minnesota. Optekar notes the importance of team bonding, especially for newer members of the team. 
"I really hope too that some of these new runners coming out even though they don't have the benefits of some of the bonding experiences really enjoy the team because I think in the end that's what it's all about is that help new students coming in find their place and to be part of something," said Optekar. 
Both Gundlach and the team hope to be able to compete as much as possible this coming season. 
"I just hope that the season will be able to keep going, we have pretty high hopes for the season since they're considering us as a low-risk sport," Fowler said.