Campus will be open for teachers and students
Students can work in occasional small groups, while teachers can work from their classrooms
August 21, 2020
The Virtual+ model, an adaptation of a completely virtual classroom, allows for opportunities for individual students as well as small groups to meet with their teachers or other staff in-person.
"The Virtual+ part is that in contrast to where we were in the spring, our buildings are open and we're able to have small groups of students and staff members together, groups of 4 or 5, for example," Davis said. "So we'll be doing a lot of intervention work."
Students who need extra help can come to school to work with teachers individually or in small groups. This is what the "+", in "Virtual+", stands for.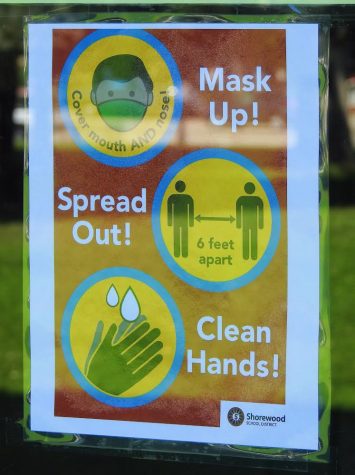 One of the main goals of the face-to-face interactions is to support students that faced significant challenges during the spring switch to online learning. 
"We can look at our data and see students that we did not successfully engage and we did not successfully reach during our emergency learning or even when we were in school," Coleman said. "We should be able to look at that data and then provide targeted outreach and opportunities to students and their families to say 'We would like for your child to have access to in-person face-to-face instruction in small groups.'"
Another target group that may benefit greatly from in-person learning opportunities are the early elementary students. 
"What research is telling us, and what parents are telling us, is it's unreasonable to teach kindergarteners through second grade phonics and reading all online," Coleman said. "That from the way the brain develops, the way the mind conceptualizes information for a four-year-old … to attempt to learn how to read virtually from a teacher or teachers, who are themselves learning how to teach virtually –– that that's not a setup for success."
Allowing small groups of students to meet with a teacher also expands the types of learning opportunities that can happen. For example, small groups may meet in music or performing arts classes to practice. The "+" addition also makes some lab work possible.
"That's something that I was pushing because in a lab-based class, if you get rid of the lab part, you know…" Burke said. "Even if not everyone can come in, if you have one group or two groups working then you at least have data."
With the buildings staying open, teachers will have the opportunity to teach from their classrooms. 
"
It'll be nice to have the work-home separation. There are definitely resources I can use in my classroom that I don't have here [at home]."
— Kelsey Burke, teacher
"It'll be nice to have the work-home separation," Burke said. "There are definitely resources I can use in my classroom that I don't have here [at home]. And I think it's also important to still maintain that teacher-student relationship, which is something that's going to be more difficult now with virtual learning, but just for students to see their teacher in the classroom [puts them in a mindset of] 'Okay, I'm in school. This isn't like school I've been to before, but my teacher is still in the classroom.'"
According to Coleman, having teachers in the building will be helpful in solidifying teacher-student relationships and providing students with the support they need. 
"It should look like teachers and counselors and special education staff –– and even me as a director –– [are] being available and present in our offices and in our school buildings so that we can support each other and so that we can support students," Coleman said.
While Coleman would like all teachers to teach from their classrooms, the district has decided not to make it mandatory after receiving pushback from staff.