Music education isn't just for the classroom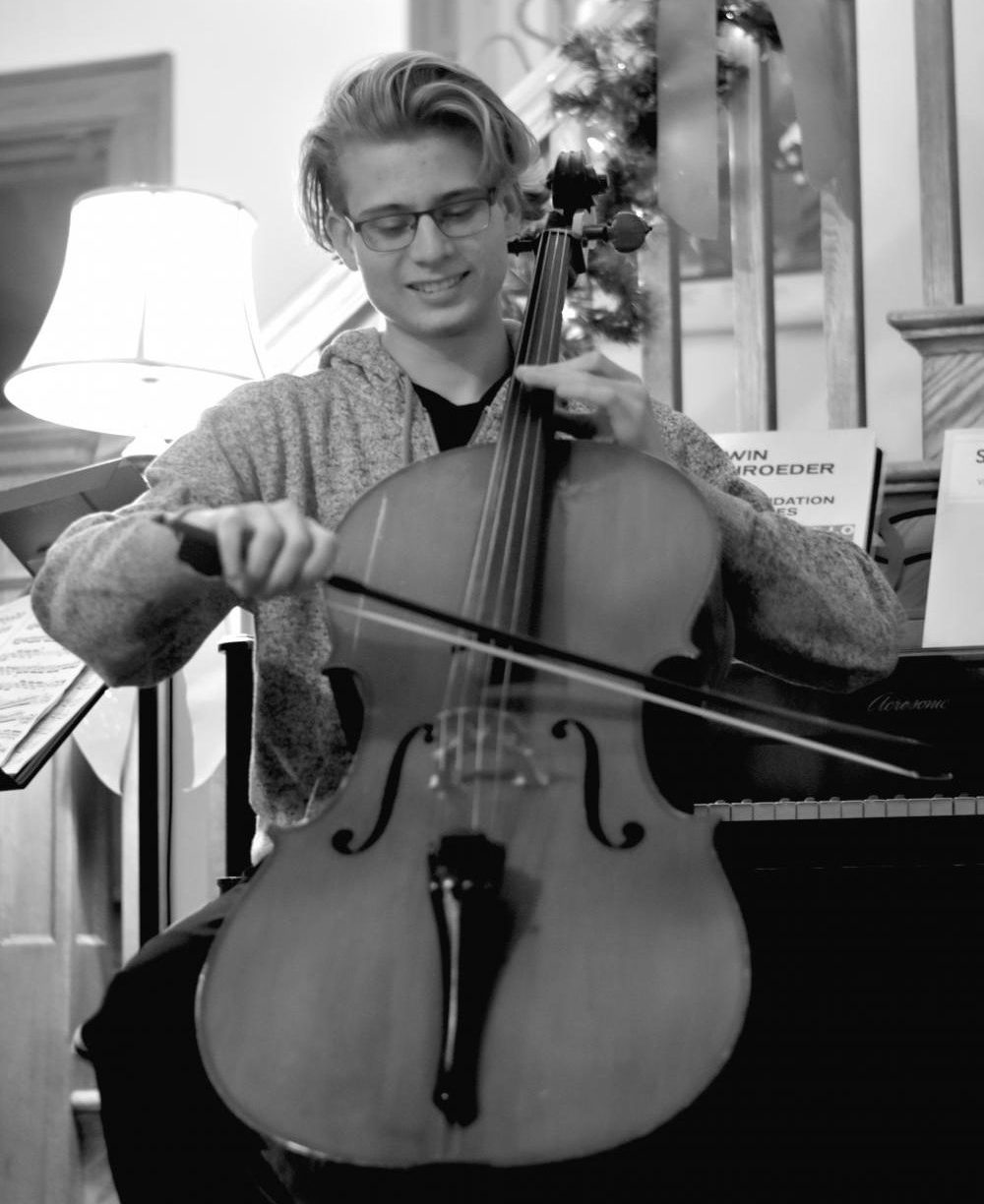 In a family of violinists, Nicholas Emanuelson, junior, is the only cellist. His parents, John Emanuelson and Karen Frink, signed him up for cello lessons at the age of five. 
His father is the orchestra teacher at Homestead and his mother is the orchestra teacher at Shorewood. Because both of his parents are high school orchestra teachers, Emanuelson grew up knowing music would be a big part of his life. 
Though some may think having your mother as your teacher puts extra pressure on you, Emanuelson doesn't think it's that much of an issue since it's not an academic class.
"I don't think there's that much pressure in school orchestra, it's just a fun class seeing how there's no homework or anything."  
Emanuelson was aware that his mother would become his teacher from a young age. At first, he was excited that he would see his mom at school, then he dreaded it. Now, he doesn't feel strongly either way. 
"Now I'm just used to it. It doesn't really matter," he said. "I knew about it for so long, that it wasn't really a surprise. I knew what to expect."
Emanuelson's peers knew Frink would be their teacher going into high school.
"It's kind of funny that she knows a lot of my friends," he  said. "It's not really weird. Everyone knew my mom was going to be their teacher in high school if you were in orchestra."
One of the special parts of school orchestra is the trips students get to take. The high school orchestra takes a big trip to Europe every three years. This spring, students will be going to Germany, the Czech Republic and Austria. However, this is not Emanuelson's first school trip to Europe. When he was in seventh grade, he got to accompany the high schoolers to France and Spain, even playing the repertoire with the students. 
"I didn't know anyone in it and just got to sit in the back," he said. "It's just fun playing with a bunch of random high school people who you don't really know."
In addition to Europe, next school year, the chamber orchestra will be taking a trip to New York to play at Carnegie Hall. This is a combined trip with Shorewood and Homestead's chamber orchestras, meaning both of Emanuelson's parents will be there conducting.
"It'll be fun to do it with Homestead," Emanuelson said. "It'll just be weird because everyone at Homestead knows of me but I don't really know any of them."
Emanuelson is also a member of the Milwaukee Youth Symphony Orchestra (MYSO) Senior Symphony and MYSO Chamber. He enjoys the challenging music and the opportunity to play outside of school orchestra.
"The music is much harder for each section, rehearsals are pretty long, two and a half hours," Emanuelson said. "[But] MYSO is full orchestra so there's a band too, and it's fun playing with full orchestra."
 Like cello lessons, it was something that his parents just signed him up for, and then he ended up sticking with and liking.