Boys volleyball continues their winning streak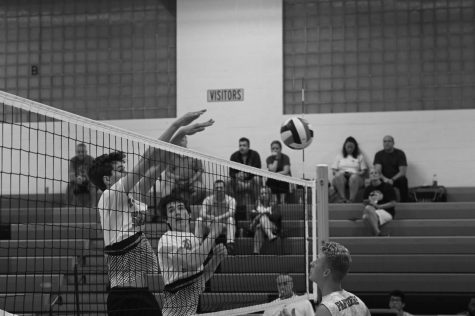 The boys volleyball team started off their season with high hopes. Recently, their eight game winning streak has caught everyone's attention. 
"Yes, we are in a winning streak but I messaged the guys this morning and [told them] I don't care if we are on a winning streak," said Noah Mader, head varsity coach. "The streak doesn't matter to me. Yes, it is good momentum, but we cannot be complacent."
The players say the team attitude changed when they started winning multiple games consecutively, 
"Our spirits have been up due to the win streak," said Lucas Oates, junior. "[It] has been supported by the team's attitude towards the game."
According to Mader, team dynamics have changed since last year, which has helped them become better.
"I would probably say the overall balance of our team [has improved] compared to other years, where we've only been strong in just a few positions," Mader said. "This year, we are better in every single position on our team." 
Volleyball is not an individual sport, and it takes teamwork and a good player in every position to have a good team. Henry Rowden, senior, thinks that this year they have that. 
"The core positions on the court have never been better," Rowden said. "Ernest Rabayev at right side hitter, Colin Kenney at outside and Nick Glaser at libero [is] one of the best starting lineups I've ever seen."
"
The core positions on the court have never been better."
— Henry Rowden, senior
The energy and commitment of this years players has really shown through their successes. The attention they have gotten has brought many students, parents and staff out to watch the home games. 
"The Shorewood students that come out to home matches may not realize, but they really do help the team play better," Rowden said. "The cheering hypes us up and keeps our energy high."
Their last conference match against Dominican High School was very important to them. By winning, they solidified their second place in the conference and their second seed in the state playoffs. Not to mention that their victory increased their winning streak to eight. 
"Our season is going really well [because now] we've just sealed the second seed for our postseason," Oates said.
Despite their huge success in their conference season, Mader isn't going to let up on the boys.
"We are going to continue to play hard and practice hard because our most important games are the last two of the season," Mader said. "To me [state] doesn't matter unless we make it to sectional finals. That's our goal. To beat Whitefish Bay or Dominican or whoever it is in that sectional finals spot". 
Now, the team has two weeks off to practice before their last two matches of the season.