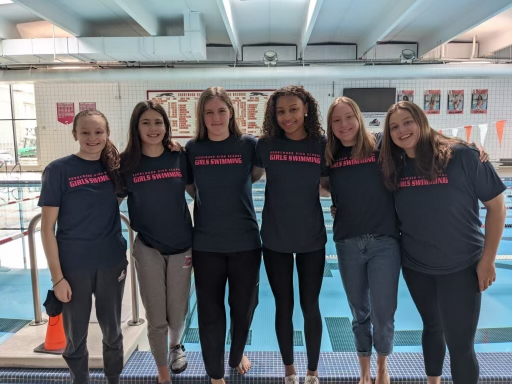 The girls swim team ended a successful season at the WIAA D2 State Meet in Waukesha on November 15 and 16. Six swimmers from Shorewood qualified for the state meet, finishing fourth overall. Impressive individual performances included Amie Barrow, senior, who won the 100 meter breaststroke, and Elise Jacobs, junior, who placed fourth in the 100 meter backstroke. 
"The meet was a lot of fun, it was a great experience for our team getting to swim against multiple other teams that we weren't able to swim against last year, and I think that we raced really well," Jacobs said.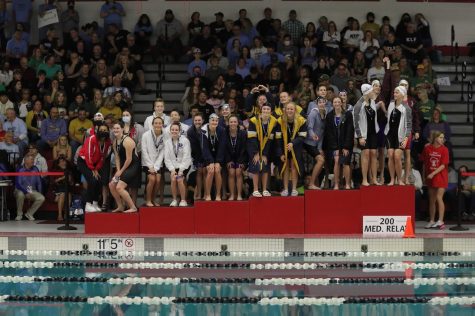 Jacobs also set a school record in the 100 meter backstroke.
"Each season, my goal is to get best times in my races, and I was super happy because I got my best times that I wanted in the end," Jacobs said. 
The 200 meter medley, which included Barrow, Jacobs, Amelia Kuennen, senior, and Olivia Reeve, sophomore, also made it to the podium, placing sixth. 
The team started practicing in August, focusing on stroke technique. Leading up to the state meet, the team gradually reduced the intensity of their practices to save up their energy for the end-of-season races, a process known as tapering.
"Throughout our major end of the season, we always taper, which basically means doing less stuff so we can race fast, and we also make sure that we are eating healthy and having fun," Jacobs said. 
Fostering a positive environment was a key goal for the team, especially after a year of not having in-person meets.
"Our goal was to reconnect with the joy in swimming. There were a lot of girls that reached their goals, and there was definitely some joy brought back into the pool area, and a lot of celebration at just being together again, being able to swim more unrestrictedly," said Ali Brown, assistant coach.
Most of the meets last season were virtual, meaning the team swam in Shorewood's home pool and compared times with other teams online. This year, the team was able to compete in all of its meets in-person. 
"Everyone had not really raced against another team in a year and a half, so there was just a lot of uncertainty, not knowing if we would get [the normal] season," Brown said. "There were many people that were feeling a real sense of loss at having missed some big meets over the last couple years, and feeling like time is running out. What I was really impressed by, though, is that they were really honest with those challenges, and they kept showing up and came out much stronger, finding a lot of things to be really thankful for."
Throughout the season, Brown led yoga sessions at the beach for the team to focus on their mental health, which helped contribute to the positive environment the team hoped to foster.
"Our coaches really instilled the mindset of having a positive mindset going into your races, because if you believe in yourself, you will hopefully have better outcomes, because you go into the race thinking positively, and you end up doing better," Jacobs said. 
The team was smaller than usual this year, and while that sometimes made it more difficult for the team to compete, it helped the team bond. 
"In meets with a bigger team with more depth we probably could've done better in some ways, but in other ways it really brought them together," Brown said. 
"I'd say we were closer than in any previous year [I had], which was nice. I think that played a very direct impact on [our success], because the better you get along the more likely you're going to train well as well, and when you're having fun, you tend to swim faster," Barrow said. 
This year was especially important to Barrow as she wanted to make the most out of her last season on the team. 
"I had two normal seasons before [the pandemic], so I knew what to expect [this year], but it was more enjoyable, because last year's seniors didn't get that proper season so I wanted to embrace [this season] as much as I could," Barrow said. 
As the season wrapped up near the end of November, the team hopes to continue to swim well in future years and make new memories with incoming teammates. 
"I hope to be a great leader on the team next year when I'm a senior," said Jacobs. "I can't wait to collaborate with other students on the team because they are all so fun to be our teammates with, and I'm really excited to see our relays perform well and have new people and be able to do those relays."