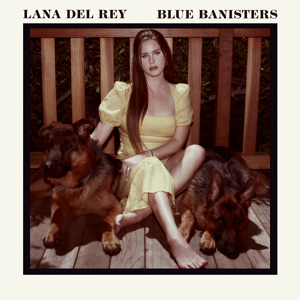 Lana Del Rey released her eighth studio album and second album of the year, Blue Banisters, in October. Born Elizabeth Woolridge Grant, Lana is an American singer-songwriter known for her cinematic sound and her wide range of unique vocal styles. Lana's fans and critics had mixed feelings overall on the record. While some said the album felt thrown together and unfinished in comparison to her previous two albums, others seemed to enjoy the more raw and personal feel.
While Lana's last two albums, Norman F***ing Rockwell and Chemtrails over the Country Club had large, cinematic production styles with lyricism not necessarily the main focus, Blue Banisters has a completely different style. It has more of a stripped, minimalist feel, focusing on her striking lyrics rather than the production. This was likely due to Lana's recent change in producers –– both Norman F***ing Rockwell and Chemtrails over the Country Club were produced by Jack Antonoff, while Blue Banisters is a collaboration of lesser-known producers. As one of the most well-known producers in the pop industry at the moment, Antonoff is mostly known for his work with Taylor Swift and Lorde, and the lead role in his project Bleachers. His distinct, heavily layered sound has set him apart from other producers that Lana and many women in pop music today have worked with. Working with a new set of producers in Blue Banisters created a less cohesive sound. 
This different production style highlights Lana's powerful lyricism and vocals, allowing her to really open up emotionally. Blue Banister's opening track, "Text Book", begins with two lines of just vocals, before any sort of background production even starts. In the beginning of the song, Lana sings about her hopes in a new relationship. As the song builds, a future Lana uses reminiscent storytelling to reflect on the failed relationship, hoping for possible reconciliation. Even as the song reaches its peak, the production is no more than her vocals on top of sparse instrumentation. 
In previous albums, Lana's songwriting often tells stories, nostalgic for an older American era. Norman Rockwell, who inspired one of her album titles, was an American artist that was broadly associated with the American dream around the 1950's to the 1970's. The idea of the American dream, as well as the time period, manifests itself very clearly into the music in Norman F***ing Rockwell. However, Blue Banisters is themed on recent events in Lana's life, including the pandemic and Black Lives Matter movement, which are mentioned throughout her lyrics.
Lana sings about those recent events in both Arcadia and Black Bathing Suit (two of the most well-received songs on Blue Banisters). In Arcadia, she sings about her deep connection with Arcadia, a small city in Los Angeles county, and how she dreams of living there. Arcadia symbolizes a utopia where there is simple harmony and peace. Featuring a stripped, raw instrumental, Lana's vocals and the depth of the song are the main focus. Lana also opens up in Black Bathing Suit, as she reflects on her time during quarantine, and how it felt like the end of the world. She goes on to sing about her experience with getting body shamed on social media after posting a picture in a bathing suit. She directly addresses those who body shamed her in the chorus, saying "My body is my temple, my heart is one too… the only thing that still fits me is this black bathing suit". 
On the other hand, Dealer and Interlude –– The Trio were songs on Blue Banisters that didn't fit well with the rest of the album. Dealer was the only song on the album featuring another artist's voice, and it did not work. It had a completely different style, starting with a smooth, jazzy, intro, but ending with Lana wailing a confusing verse that contrasted poorly with the rest of the album. Interlude is nothing more than a trap beat that seemed very out of place among an album of mature, emotional ballads. Perhaps the contrast with these two songs caused some critics to label the album as incohesive and thrown together. 
Overall, Lana continues to impress with Blue Banisters, reaching a new and personal place that was moving and enjoyable. This is an album that you can listen to multiple times, and get more out of it each time. The simple style and more lyrical focus were a step in a slightly different direction for Lana but it definitely worked.