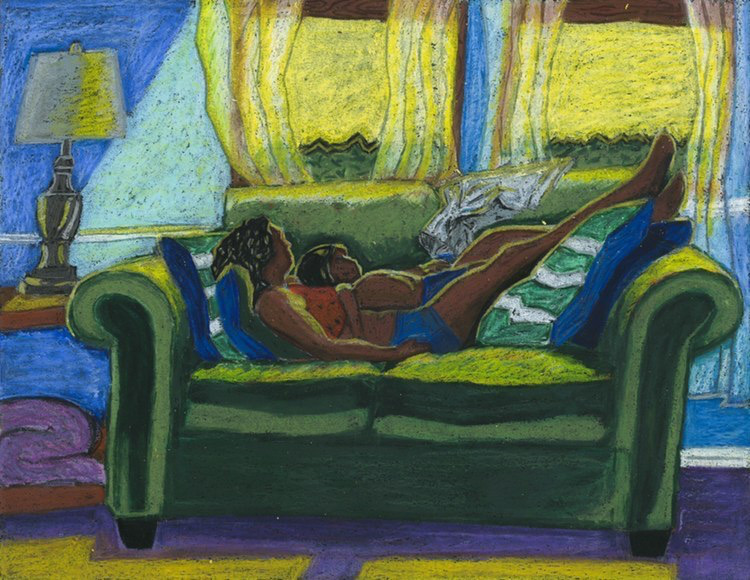 courtesy Bryan Terry Jr.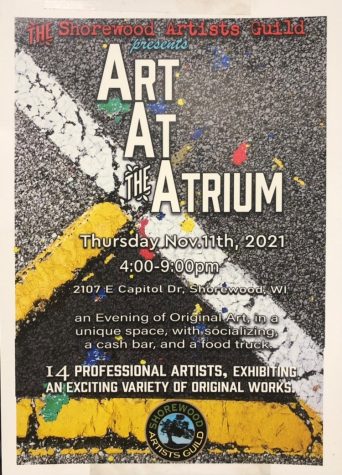 After a difficult year for in-person art shows, the Shorewood Artists Guild will be hosting a special in-person exhibition on November 11. The event, called "Art at the Atrium," will be held from 4:00 to 9:00 p.m. at The Atrium (2107 E Capitol Dr.). Masks are required. It will include displays by various Shorewood artists, as well as by two SHS AP Art students.
The Shorewood Artists Guild is a group of local artists who work together to put on art shows and to advance art in the Shorewood community. The artists in the guild work with various mediums, making for interesting and diverse events. At these shows, most displayed works are also for sale.
"There are people who are in printmaking, people who paint, some are earning a living as commercial artists or other kinds of work," said Jennifer Hellermann, Shorewood Artists Guild member. "I'm a retired art teacher, so I just get time to produce and try to get out there and get in shows. It's always nice to sell, but for me that's not the point."
As many artists work individually on projects, the guild and its events can help to ease this creative isolation and increase recognition of their art.
"It's kind of an isolating job and you need other people to look at your work, you need other people to advise you, to keep the creative process going," Hellermann said. "[The definition of a guild is] an association of people for mutual aid or pursuit of a common goal, so we're all pursuing the goal of getting our name in art out there."
What makes "Art at the Atrium" different from other Shorewood Artists Guild events is the addition of AP Art students. Before the pandemic, a similar event was held to further include the community in the arts. This event largely received positive feedback, giving the guild a reason to hold a similar event in 2021.
"It just seemed logical to represent a couple of the artists at the school because we call ourselves Shorewood Artists Guild — it is a community organization and it just made sense to include some of our younger artists," Hellermann said. "People really appreciated it, it was like a breath of fresh air to have some aspiring artists who were younger."
This year, the event will feature two SHS students: Bryan Terry Jr., senior, and Zahni Gulbronson, junior. Both Terry Jr. and Gulbronson are taking AP Art, giving them a unique opportunity to work artistically on a daily basis. Specializing in different mediums, the students will present display boards with selections of their work.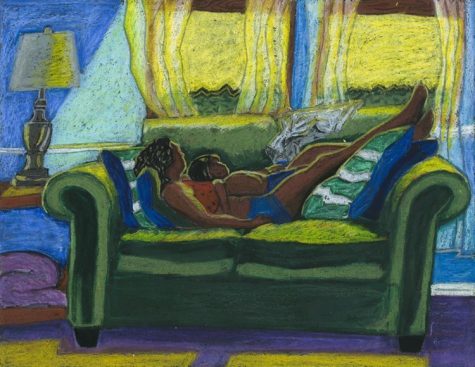 "I'm having three pieces for the show, two of them are oil pastel and colored pencil pieces, and one of them is a photography piece," Terry Jr. said. "I think my favorite art piece [that I'm selling] was a drawing I did with oil pastels of my sister and my nephew, their names are Alex and Myles, and that's what it's called. I have an art account on Instagram where I like to post stuff I make for my art classes and that one actually went around a little bit and I got a lot of support from that piece."
While Terry Jr. focuses on oil pastels as his primary medium, he and Gulbronson both delve into photography as well. In particular, Gulbronson will be featuring abstract photography for his display.
"The projects are based on whatever I want to do at any given moment, although there's probably some underlying themes where I'm trying to do abstract stuff with photography," Gulbronson said. "[Often,] I'm trying to take pictures not so much of what the picture is, but sort of just the lines and shapes you see in the picture."
While the students will have various pieces of art for sale, 15% of the proceeds from all art sales will go towards funding scholarships for AP Art students. "Art at the Atrium" gives the students a chance to sell their work, but that is not their only reason for presenting.
"I think it's mostly connections and experience," Gulbronson said. "At the very least, it will just give me some experience on how art selling works, but I think it will also give me some useful connections to people who see it and take an interest in it or get good critiques if anyone happens by it."
After in-person shows were cancelled for much of the pandemic, the students see "Art at the Atrium" as a way to get their art out into the community, as well as giving them a sense of completion and pride for their work.
"Just seeing all of your work together up on a wall somewhere, that's a feeling that's really hard to describe," Terry Jr. said. "It's like 'dang, that's all my stuff, that's all things I've accomplished and people are here to see that and admire that."
Aside from the buying and selling of art, the event aims to be an outlet for people to explore art created by other members of the community. For people that are not as involved in art, "Art at the Atrium" gives a great opportunity to browse the various art styles and find something that piques their interest.
"Most people don't necessarily go with intentions of buying, but just to see what different artists are doing," Hellermann said. "You'll like some and you won't like others, that's just the nature of the beast: my art might not be someone's cup of tea, but there's certainly enough styles of art at the show that you'll find something you'll think about later."
Students and families, along with the rest of the Shorewood community, are encouraged to attend "Art at the Atrium" to enjoy the cash bar and food truck, browse the work of local artists and find art that speaks to them.