Tierney steps up for AP English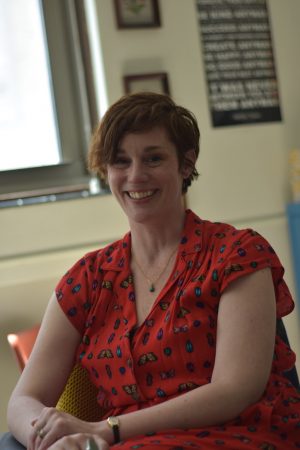 Colleen Tierney, English teacher, will begin teaching Advanced Placement (AP) English next year, replacing retiring teacher Bill Wiswall. AP English is a course offered to seniors that focuses on literary theory and a variety of reading and writing strategies. The course runs one academic year and culminates in the possibility of taking two College Board administered exams: AP Language and Composition and/or AP Literature and Composition. 
Tierney was interested in teaching this course because she was excited to teach various significant novels and compositions, and to interact with students who have a strong interest in the humanities.
"This is like the best part of my job that I get to teach this class because I'm going to be in a room full of kids who … [have] not only a predilection for the humanities, but a strength. So, hopefully I can [take] them past the concrete and the fundamental ideas in the course and start with the abstract sooner," Tierney said.
Tierney has relied on Wiswall's help to prepare her syllabus for next year, develop her curriculum and learn the pacing of the course. Since Wiswall's files are digitized for online school, it has been easy for Tierney to adapt his curriculum.
"[Wiswall] is my dear friend and he really has been teaching me my whole career … He has really prepared me for this."
As opposed to other AP courses, AP Literature has a suggested reading list but no specific day-to-day plan, instead consisting of more general unit topics. This gives Tierney the flexibility to adapt the curriculum and keep it engaging and relevant to her students as she continues to teach the course. Tierney must present the syllabus she adapts to the College Board for it to be approved.
"Because I'm not beholden to an AP curriculum, like AP Biology is, then I can change the content as I see fit throughout …My goal is to make sure [the curriculum is] representative of the kids in front of me."
"
For now, Tierney does not plan to make any drastic changes to Wiswall's curriculum. However, she does plan on adding the novel There There by Tommy Orange. Published in 2018, There There follows Native Americans in and around Oakland, California. Tierney chose to add this novel because it is a current and influential representation of an important perspective.
"Literature is something that is always growing, and so you want to add things that are relevant and modern within each unit … I can choose pieces that I think kids would respond to, pieces that are important and influential."
While Tierney feels the classics or novels from the literary canon are immensely important, she hopes that her students discover reading as a passion instead of a burden or a task. It is Tierney's ultimate goal that after AP English, her students will be able to read and analyze any literature of their choosing.
"Reading is one of the best things in my life … I really want kids to want to read, I want them to want to read on their own and I don't necessarily want them or need them to read classics or anything from the literary canon. I'm not married to that idea that kids have to read Steinback and Hemingway and all that. I [would] love [it] if they did, but that's not my goal."
Tierney also hopes to teach her students how to be less impressionable about the content they are absorbing. She hopes to foster an environment where discussion-led activities and extended reading responses can provide clarity and perspective towards the content.
"I think all too often kids, and everybody really, just believe what they read or believe whatever they hear … And I hope that, over time obviously, I hope that I get better at teaching kids to question what they're reading and how they read."
Tierney looks forward to teaching the course and encourages students to take it on despite the seemingly overwhelming amount of homework.
"The reading is usually what scares kids at the start … I hope you like to read and come willing to read and willing to talk about what you're reading … I'm just really excited and it's really going to be a pleasure to get to read books and talk about those books with kids because that's why I wanted to be an English teacher, to read and talk about books. That's it."

New hire to fill physics opening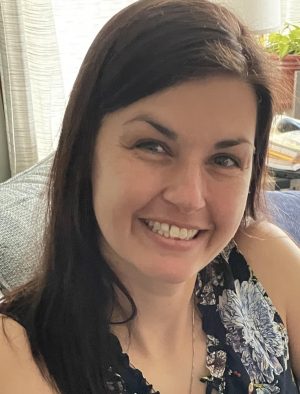 After an extensive interviewing process, the Shorewood School District has opted to hire Gina Schindel to replace retiring physics teacher Kevin Kane. Schindel currently plans to teach AP Physics C: Mechanics — a calculus-based course — and the district's algebra-based physics course.
Schindel attended Oak Creek High School and struck an interest in math and science problem solving, especially enjoying the more interactive structure of her physics course. She attended UW River Falls and ran while majoring in physics. While working professionally, Schindel began coaching high school cross country and track. After sitting in on a physics lecture at the school she coached, she began to realize the demand for "fun physics teachers" like the one she had in high school.
"My high school physics teacher, her name is Judy Schmidt, was really involved with AP Physics and developing really fun and hands-on physics curriculum, so my high school physics experience was very different to a lot of people at the time," Schindel said. "And now a lot more teachers do some of those fun things she did like… egg drop[s] and rocket launches."
After returning to UW River Falls for her master's in education, Schindel taught at West Allis Central, Oconomowoc High School, Franklin High School and most recently at New Trier High School just outside of Chicago. Schindel was interested in accepting the job in Shorewood because the tight knit community appealed to her and she has family in the area.
"I'm just really looking forward to getting to know everybody. It'll be very different. I'm coming from a school that currently has five thousand students to come to a school like Shorewood where it's like six hundred [to] seven hundred kids, so I think it's going to feel more like a tight-knit community, more like a family kind of feel."
Schindel generally works to motivate students by focusing on an individualized model of teaching, understanding that every student needs a different level of support and practice. She makes the effort to connect with students about their hobbies and interests so that she can find creative ways to tie some of their favorite activities to physics. This means that Schindel enjoys teaching students who have a variety of motivations and interests for taking her course.
"At Oconomowoc, everyone took physics and [it] was fantastic to have an inclusive classroom like that, where it wasn't just the same type of a student and we can all learn from each other. Then, the student who has built his own engine understand[s] the forces and understands the electricity unit really well and has things to contribute that maybe they don't necessarily feel that they can contribute in an honors level or AP level English class, but in physics, even if it's not AP Physics, they can contribute."
Schindel also believes that it is important to construct an environment where all of her students are comfortable sharing and learning at their own pace. While she would like if each of her students had a passion for physics, it is more important to her that her students value each other's contributions and joke around.
"I want to like coming to class everyday and I want my students to like coming to class everyday. I don't need them to like physics, I never need someone to say 'physics is my favorite subject.'"
In order to prepare each student for success, Schindel's curriculum and tests rely on repetitive concepts. If students demonstrate mastery of one unit on a separate test, Schindel is flexible in changing the grades at a later date.
"Physics is hard, for some kids it's the hardest class they take in all of high school, and I never want anyone to leave and be like 'Oh my god physics was the worst…' I really think it's important for students to know that they can make mistakes early on and continue and that the material continues to add together."
Another way that Schindel can help make the curriculum easier to understand for her students is her experience grading AP exams. When she looks through all the exams that students across the country take she can start to understand some repeated patterns and mistakes.
"One of the really cool things about the AP reading is that I get to see the same question seven thousand times so as a teacher the lightbulb really goes on with like 'oh wow, I am never going to have students do it this way again because I can see where students learned it one way and then they got confused and approached that question in a different way.'"
Schindel also enjoys running and coaching high school students as she and her husband helped lead a successful cross country and track program at Franklin. While she currently is busy with young children, at some point she would be interested in helping to coach both the cross country and track teams here.
"I would love to help coach, that is something that has always been a big part of my life and running and running with the team is something that I think is very fun and important."
Schindel looks forward to making the move up to the Milwaukee area and getting to know and learning from the community of Shorewood, other staff and her students.
"I'm just really excited… Every place I go I learn something new, and I learn from the other teachers and I learn from the other students."