Aside from standard scholastic instruction, extracurricular activities have also been affected by the pandemic. Major performances have been put on hold.
"Both the drama department and our music department, so all of the performing arts, have pushed all of their performances back through at least December is my understanding," Davis said. "There'll certainly be a lot of preparation and classes will continue to go on, but as far as full-blown performances, we wanted to wait until we get to December and have an idea of where the coronavirus is at that point."
It will be up to individual clubs to decide if and how they meet during online instruction. Students will be given an hour-long lunch, a time during which Davis suggests they may choose to meet. 
"You're going to have a lunch break during your school days, so you have an hour lunch break, that could be a time where clubs [are] meeting virtually or a small group of students could come over here," Kenney said. "A lot of teachers have expressed that they want to teach their classes from their classrooms. We're going to make that happen for them. They can be alone in their classrooms, safely. If the teachers are here, and so many of them are club advisors that they can… should be able to figure that all out."
Per WIAA guidance, all sport start days have been pushed back. Sports have been split into two categories: "low-risk" including tennis, swimming, cross country and mountain biking, and "High-risk" sports such as football, soccer and volleyball.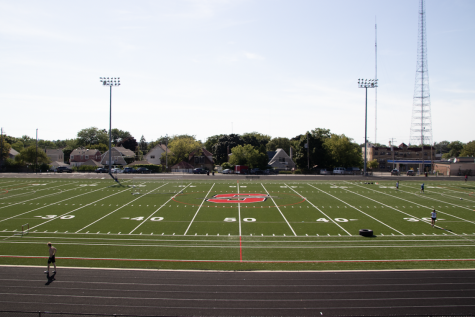 While the WIAA oversees tournament play, it is not in charge of deciding whether regular season play continues. That is up to each individual conference. 
"We're working with our conference to see what other schools are doing, because if we don't have a conference to play, that changes the dynamics quite a bit," Davis said. "Although it's nice to practice and do some team bonding, if you're not going to play the games, is that really something that we want to do? Those are a lot of the conversations that [Levar] Ridgeway [athletics director] is having with coaches and then with other conferences as we're moving forward."
Sports teams will have to make changes individually to how they practice and interact, in order to adhere to social distancing guidelines and make training as safe as possible. 
Gym classes will also look very different. While it hasn't been completely figured out yet, physical education classes will likely consist of the classroom aspect and then some individual exercise component. 
"It's going to be a lot of: get your workout in, here are some exercises that you can do, log your activities, whether we have the watches to be able to monitor heart rate or whatever it is, just continuing along those lines," Davis said. "A lot of it is probably going to be individualized workouts. Or if a couple of kids could get together and do the workout together and stay safe, that would be an opportunity, too."